Back to Top
Search for Openings
Help keep the lights on for billions around the world. Search our open jobs below.
Working During COVID-19:
Learn more about S&C's hiring updates in response to COVID-19 below.
COVID-19 Update
Empowering Your Future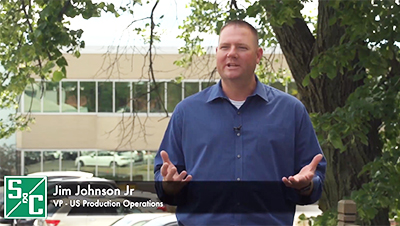 VP, U.S. Production Operations
"I've known about S&C my whole life. My dad has worked here for 40 years."
Watch Video
Frequently Asked Questions
What does S&C do? What sets us apart? Where are we located? What's the future of S&C?
Learn More
Recruiting Fraud Alert
Unfortunately, online scammers have been known to try to defraud job seekers into paying for a variety of up-front fees, supposedly to facilitate pre-employment testing or to help in securing employment with reputable companies.
Neither S&C Electric Company nor any recruiting or placement agency firm working with S&C sends unsolicited employment offers or charges job seekers any advance fees of any kind.
Scammers often try to mimic the brands, websites, and e-mail addresses of legitimate companies. Legitimate S&C team members have email addresses ending in @sandc.com. Do not trust e-mails from domains that use slight variations of @sandc.com.
If you ever have any question regarding the authenticity of any recruiting communication purportedly sent by S&C Electric Company, please call our recruiting team in Chicago at (773) 338-1000.