Loadbuster®—The S&C Loadbreak Tool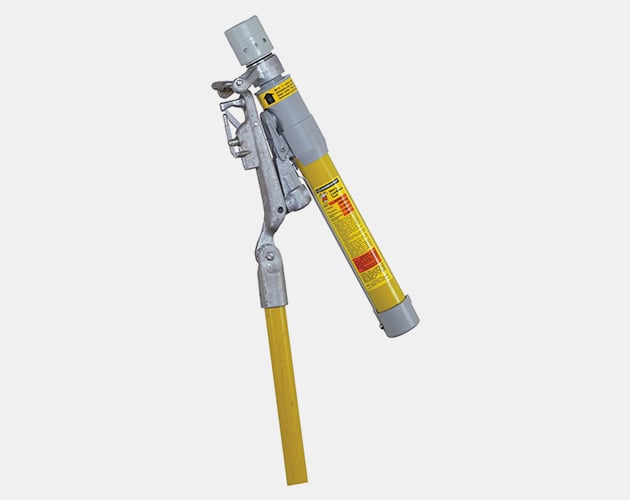 Loadbuster®—The S&C Loadbreak Tool
The original lightweight, easy-to-use portable loadbreak tool
For use with disconnects, cutouts, power fuses, and fuse limiters, S&C's portable loadbreak tool provides a better way of switching on your distribution system
Back to Top
The Loadbuster tool is the original lightweight, easy-to-use portable loadbreak tool for use with disconnects, cutouts, power fuses, and fuse limiters. It brings load-switching capability through 34.5 kV and 600 amperes nominal, 900 amperes maximum to your overhead distribution system.
The Loadbuster tool cuts installation and operation costs. There's no need for load interrupters on each device. Switching procedures are simplified too . . . minimizing the duration and scope of outages. This rugged, reliable device interrupts with no external arc, meeting OSHA requirements for opening circuits under load.
Lineman-proven since 1956 . . . the ultimate in portable live switching
Available in two system-matched models

14.4/25 kV nominal, 27 kV maximum
25/34.5 kV nominal, 38 kV maximum

Interrupts with no external arc. Meets OSHA requirements for opening circuits under load
Handles all live-switching duties — transformers, lines, cables, and capacitors . . . through 38 kV, 900 A
Rugged, reliable. Loadbuster's robust, low-maintenance design stands up to the most demanding use . . . up to 2000 operations between inspections
Operation counter feature tracks tool use, helps determine maintenance needs
Cuts installation and operation costs. No need for interrupters on each device . . . simplified switching procedures minimize duration and scope of outages
Total factory support. Loadbuster and replacement parts available for immediate delivery.
S&C's Loadbuster Tools are manufactured in accordance with a quality system certified to ISO9001:2000.
Certain application restrictions apply, especially with regard to single-pole switching of ungrounded-primary three-phase transformers or banks of single-phase transformers. See S&C Publication 811-30 for details.
1. Providing current path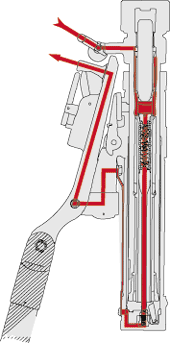 Loadbuster provides a current path between upper contact and pull ring of disconnect, cutout, power fuse, or fuse limiter — indicated by solid red line.
2. Extending Loadbuster

When Loadbuster is extended by a firm, steady downward pull on the universal pole, the associated device is opened, current is diverted through the tool — along the current path represented by the solid red line — and the operating spring is charged. At a predetermined point in the stroke, the trigger trips, releasing the charged spring to effect high-speed separation of the moving contact from the stationary contact.
3. Interrupting circuit

Current is positively interrupted by rapid elongation of the arc confined within the arc-extinguishing chamber, and by the efficient deionizing action of gases yielded by surrounding materials of the trailer and liner. Resetting latch retains tool in the open position, until released to reset Loadbuster for the next operation.