A Reflection on S&C's COVID-19 Response
Back to Top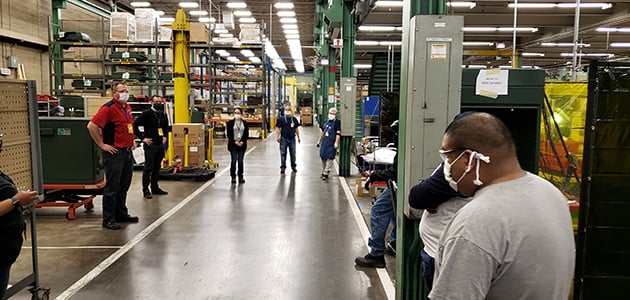 Over two months have passed since S&C implemented its COVID-19 response plan. At the time of implementation, the pandemic's fluidity made predicting the duration of its impact on our business challenging. Regardless, our commitment has centered on maintaining team members' safety, securing and managing S&C's business to serve our customers, and continuing to focus on our vision and strategy. We understood the plans we made in the short term could have long-term repercussions, depending on how we navigated the pandemic and beyond.
As we reflect on the progress since then, S&C has established dedicated working groups to assess best practices from our response plan and help create "new normal" guidelines for our operations worldwide. In recognition of the different degrees of impact COVID-19 may have from location to location and country to country, our approach will not be "one size fits all." However, it will have a common thread of continued dedication to safety, quality, and product development. Ongoing improvements to processes will be applied through thoughtful and critical self-assessment and will support our efforts to maintain operations under the most difficult circumstances.
Our focus on team member safety has allowed S&C to serve our customers throughout this pandemic. With safety as our number one priority, we've kept production open to meet customer demand, but we've also created a workplace environment that promotes safe practices at work and at home. As I become more and more familiar with S&C's culture, the dedication of our team members has been truly inspiring. S&Cers throughout the world selflessly met the needs of the moment, and the appreciation expressed by our customers has been overwhelming. In recognition of the exemplary work done by so many, we created the "COVID-19 Champion" recognition program to thank and reward specific team members for their remarkable efforts and energy during this uniquely challenging time.
Communication with our team members and our customers has also been a critical factor in S&C's success in addressing COVID-19. As a large manufacturer, most of our team members do not have regular access to individual work computers or email and finding innovative ways to reach everyone was paramount. Leveraging all technologies available to us, we committed to timely and transparent communications and to a 100% responsive rate to team member questions and concerns. We continue to survey our teams to provide two-way communication and to open paths to new ideas and ways we can improve.
We also committed to transparency with our customers. Our sales team, our services groups, and our technical experts have frequently and directly kept our customers informed of S&C's progress. This pandemic has truly highlighted the criticality of a reliable power supply and the importance of a resilient electrical distribution network. We have worked closely with our customers to keep the grid running and to reduce the duration and frequency of outages. These partnerships with our customers were especially critical during the earliest stages of the pandemic.
Social distancing means we can't connect with customers as we used to. However, we continue to find new ways to extend the superb level of service S&C is known for. For example, when we couldn't bring customers to our facilities for in-person training, our Product Development team hosted the training virtually through video-connected glasses—allowing our customers to see what they see in real time. While we look forward to the time when we can meet with our customers in person, we will continue to look for alternative ways and new technologies to interact with our customers. This work will continue to evolve to meet their needs.
Our safety-first mentality and transparent communications were part of our culture before COVID-19 and our response plan, and they have served us well in navigating these unprecedented times. S&C will continue to closely monitor COVID-19 developments and how economies throughout the world adjust. The lessons of the past will help form our approach going forward. And our commitment to maintaining team member safety, securing and managing S&C's business, and continuing to focus on our vision and strategy will place S&C in the best position to support both our team members and our customers in the future.
Expert
Publication Date
July 15, 2020