Laboratory Services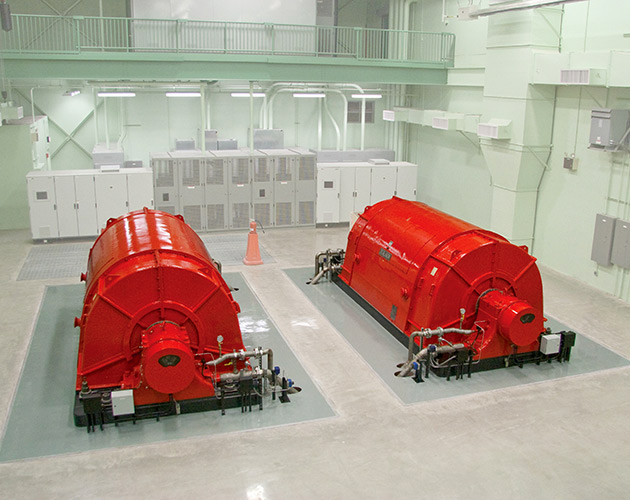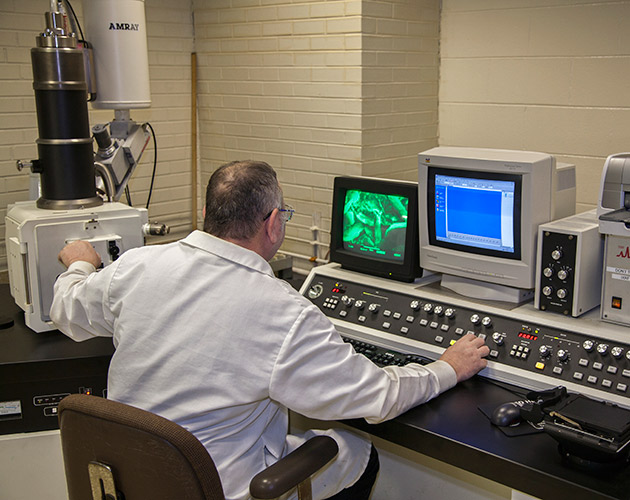 S&C's corporate headquarters in Chicago is home to one of the world's leading electrical testing laboratories. Our 20,000-square-foot Nicholas J. Conrad Laboratory is well equipped to meet the rigorous testing requirements for electrical equipment; it has two 850-megawatt electrical short-circuit test generators that allow testing up to 100 kA rms symmetrical and up to 230,000 volts. S&C's professional electrical and mechanical testing experts have extensive experience applying our full range of testing capabilities to solve power equipment and power system issues.
S&C is the only company in North America able to bring to bear the entire suite of in-house facilities and services to address your testing needs. We offer a wide variety of innovative solutions for forensic analysis using the ATC's vast resources.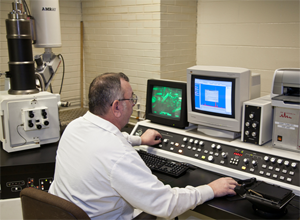 The material used in electrical equipment must withstand the extremes of nature and time to ensure proper functioning of your power system. S&C offers a comprehensive diagnostic package to fulfill the material and environmental-simulation testing requirements of your electrical equipment. Problems are analyzed using sophisticated techniques such as Fourier transform infrared spectrometry, scanning electron microscopy, energy dispersive x-ray spectrometry, differential scanning calorimetry, and thermogravimetry.
S&C's professionals can then reconstruct how specific materials or contaminants contribute to an equipment problem, or predict how the same material will react in different environments through a variety of material type tests. We can provide you clear recommendations for improved performance or corrective action.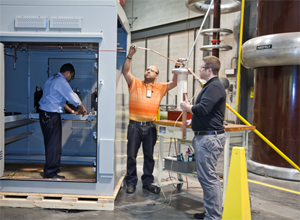 Using the two 850-MW generators at the Nicholas J. Conrad Laboratory, S&C can perform a variety of electrical tests on your equipment. Our experienced staff will develop customized test procedures for your electrical equipment. S&C's experts will then analyze the test results, verify equipment performance, and develop a clear course of action to improve your equipment's quality and reliability. All of our testing procedures are conducted with a strong commitment to quality, safety, and attention to detail.
Short-Circuit and Interrupting
S&C's two 850-MW short-circuit generators allow for testing at current levels up to 100 kA rms symmetrical, 300 kA peak, and at voltages up to 230 kV. Our testing experts conduct a variety of tests, including simulated transformer secondary faults on transformers, short-circuit withstand tests, cable/loop switching tests, load switching tests, and line dropping tests. S&C's sophisticated control system allows for setting precise transient recovery voltage parameters and asymmetrical current peak control on a per-pole basis.
High-Voltage and Dielectric
S&C's High-Voltage Laboratory allows for a wide range of testing with voltages up to 800 kV (60 Hz) and 1200 kV (Impulse). In addition, specialized tests such as radio interference voltage tests, capacitor discharge tests, partial discharge tests, surface arc tracking tests, and long-term outdoor energized exposure can be conducted.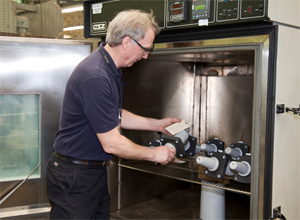 S&C's ATC facility has the depth of resources and testing equipment to perform detailed analyses of your equipment. We offer a wide range of proven testing procedures to assure your equipment can withstand the pressures of environmental extremes and continued use.
Through the use of high-speed video, we can analyze the acceleration and kinetic motion of your machine and perform a force, torque, stress, strain and mechanical endurance analysis. We can also perform compression, tensile, flexural, torsion, elongation, and impact tests. To recreate the environmental extremes your equipment may have to withstand, S&C provides simulated environmental testing to evaluate the effect on equipment performance due to ice, heat, and water.
All of these tests will be managed by S&C's testing experts and will provide you with a detailed report of our findings along with suggested solutions to any problems that are discovered.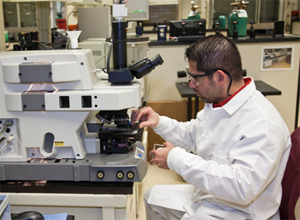 When electrical systems malfunction, S&C is uniquely equipped to discover the root cause of the problem and develop solutions to address it. Our expertise and access to state-of-the-art electrical, mechanical, and analytical laboratories allow us to determine the root cause of any electrical incident. Using the ATC's various facilities, we are able to establish environmental and circuit conditions which closely replicate the actual field conditions at the time of the incident.
S&C's experienced professionals provide detailed electrical equipment malfunction determinations as well as utility power system incident analyses. The results of our tests are provided in detailed reports which can be used to develop solutions to prevent future incidents. S&C can also provide expert witness testimony to legally explain the reason behind an electrical system error.