The 'u' in Manufacturing
Back to Top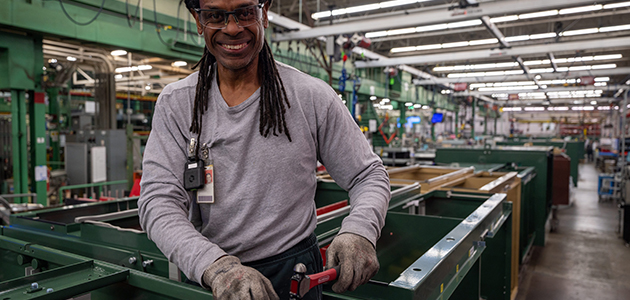 You would be hard pressed to identify a more overused phrase when it comes to teamwork, but coaches everywhere, whether it's in sports, life, or business, will tell you that there's no "i" in team. Yet on this Manufacturing Day 2022, we're celebrating that there's both an "i" and a "u" in manufacturing. And that's what makes our industry so compelling right now.
At S&C, we take considerable pride in manufacturing the technology that makes the grid more reliable and resilient. As weather patterns become more extreme and electric vehicles become more common, our work here takes on an even greater significance, which is making sure electrical power is stable when it faces more load or greater threats. We're not just making products; we're working to modernize the power grid and keep the power on at homes, hospitals, shelters, and first-responder units around the world. It's rewarding to know what we do matters.
And the manufacturing sector is booming right now. A recent survey by the National Association of Manufacturers found sector job growth in 2021 rose at its fastest pace since 1994. The same survey also revealed that, among manufacturers, wage growth for production and non-supervisory workers was at a 40-year high. In fact, in 2021 S&C increased its minimum hourly wage for U.S.-based team members, and we launched an updated Annual Incentive Plan. This provides all team members with incentives based on S&C's performance while improving transparency and equity in the company's incentive bonus program.
This is an exciting time for a career in manufacturing. Within S&C alone, we have a wide variety of job opportunities—from maintenance and office jobs to machinists, welders, assemblers, CNC programmers, engineers, designers, sales support, and leadership. We also offer on-premises training and certification programs and a tuition-reimbursement program to help team members increase their skills and advance their careers. We are committed to providing team members with meaningful careers and advancement opportunities. Because of this, the average S&C team member tenure in the U.S. is 22 years—far exceeding the national average.
For us to remain at the forefront of manufacturing, we need a diverse, committed workforce. Diversity helps drive our innovation and competitiveness by drawing on the broadest range of talent. More than half of our full-time S&C team members are racially diverse, and 19 percent (up from 17 percent in 2020) of our team members are women.
S&C is a special company with a reputation for integrity, innovation, and customer service. We are committed to customer-centered innovations that make the 21st century grid more reliable and resilient. We've done it for more than 100 years, and we'll do it for the next 100. But we need more than products. We need talented and dedicated people ready to transform the power grid—because that's what we do. Join us on the journey to a more stable grid and a more sustainable world by checking us out at sandc.com/careers.
This manufacturing company does, in fact, need an "i." But, most importantly, we need a "u."
Expert
Publication Date
October 6, 2022