The Pivotal Roles Women Have Played at S&C
Back to Top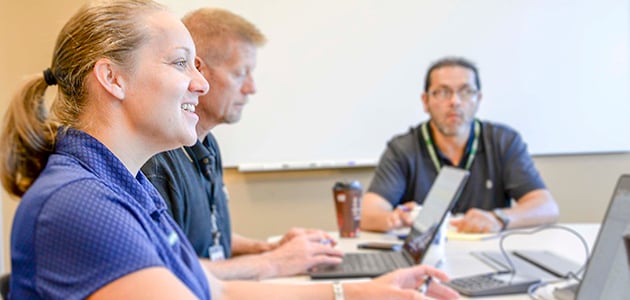 March is Women's History Month, which was officially established in 1911, the same year S&C opened its doors. S&C celebrates the women who not only helped build the company but who also paved the way for future opportunities for women over the years.
Women, in fact, have played pivotal roles at high levels within the company from the very start. Irene Conrad, wife of founder Nicholas Conrad, is acknowledged for her commitment to the risky endeavor of establishing a new business. In 1911, women didn't have the right to vote, but that didn't stop Irene from working with Nicholas to help build a successful company from the ground up.
In the early years of S&C, women began to become very important influences to the company. Theresa Burggraf started her career at S&C in 1925 as a secretary and rose to the role of the company's official bookkeeper during her 45 years with the company. Theresa also helped Arlys Streitmatter launch her career at S&C in 1955, quickly rising to an influential position within the company.
As S&C's corporate secretary, Arlys was a huge proponent for women, appointing them to various committees throughout the company to get to know and work with the leaders across the company. In addition to making monumental changes to the business, she would also push women to get outside their comfort zone and literally make them change jobs to grow their careers.
S&C has had many more notable women, but I can't ignore a few notable firsts. Genevieve Collopy, who joined S&C in 1942, was the first woman to work on the factory floor, and she stayed with the company for nearly 45 years. In 1969, Inez Johnston became S&C's first female chemist, later rising to the role of supervising chemist. Women with science, technology, engineering, and mathematics (STEM) degrees were a rarity at the time, but she thrived in her role despite a significant gender gap. Kacey Paw was the first woman to receive a patent at S&C for her work on hookstick-operated Omni-Rupter® Switches in 1998.
Today, women perform many different roles across the company—many following in Inez's footsteps in STEM positions. S&C has many female engineers on the team, including one who is a member of the National Academy of Engineers. Female team members also include many scientists, software developers, and others in professional and nonprofessional roles.
To support these women, we are fortunate to coordinate a Professional Women's Group, whose mission is to foster recruitment, assimilation, and retention of professional women at S&C. Group events focus on achieving personal and career development, building internal and external networks, and providing opportunities to give back to the community through many channels, including STEM programs for young girls to provide encouragement and opportunities for them to find their passion in the field.
With a 100-plus-year track record for both S&C and Women's History Month, I can't help but wonder what contributions women will provide S&C over the next 100 years. I'm certain they will continue building on their rich history of success, and I am proud to be a part of a company that acknowledges women's capabilities and supports their professional development.



Expert
Publication Date
March 27, 2017