Fostering a Workplace Centered on Safety
Back to Top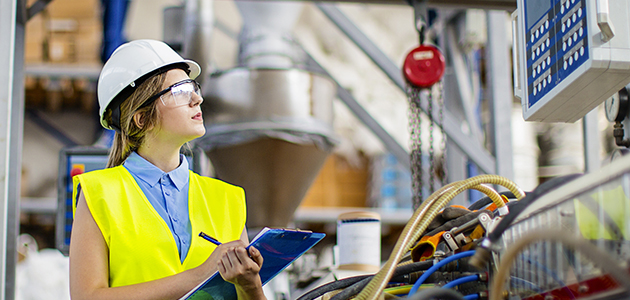 June is National Safety Month, an opportunity for all of us to reflect on our progress and recommit to our safety journey.
Safety is engrained in everything we do at S&C, from how we develop and design our products to how we conduct our day-to-day operations. It's based on a zero-incident vision, meaning we believe all incidents are preventable. This past year especially has brought to light the breadth of circumstances that impact safety in our everyday lives.
As a manufacturer, S&C has built a culture that acknowledges safety is a collective commitment each of us must make. As an employee-owned company, S&C and its team members feel accountable to keep ourselves and our co-workers safe. We take that responsibility to heart and are empowered to improve our workplace, from holding daily safety briefings to providing suggestions for safety improvements or to even stopping work if we see an unsafe activity or condition.
Today, our lagging indicators—Total Case Incident Rate (TCIR) and Days Away, Restricted, and Job Transfer (DART)—are well below the national average for similar types of businesses. But to meet our zero-incident vision, we are focused on the future and are committed to continuous improvement to reach our goals. Part of this work involves analyzing leading indicators, such as "near misses" and "hazard IDs," to paint a holistic picture of our safety journey. This requires leadership and active team member engagement to identify and act on these indicators.
Often this process is cross-functional, and many teams participate in our "go-and-see" discovery procedures to proactively assess and challenge present conditions and processes. Our team members provide recommendations for how to further mitigate risks and, as a result, we've honed our practices, installed new equipment to improve the safety of our processes, and enhanced the ergonomics of our team members' workstations.
Recently, we launched a monthly action plan initiative to facilitate "taking time out for safety." Action plan activities range from conducting safety audits to completing training and associated exercises, which help us continue to be proactive, track the progress of our safety journey, and reinforce a safety mindset.
It is important that we carry this safety-first mentality in everything we do at work, at home, and at play—and especially into how we've navigated COVID-19. While we implemented many physical measures in our facilities to avoid the risk of transmitting COVID-19, we couldn't ignore how a year of stress and isolation can take its toll on one's mental well-being. We understood how life's pressures could become distractions and lead to accidents—whether it's when getting behind the wheel of a car or operating machines at a workstation. Our safety training and daily huddles often reiterate the importance of having your "mind on task."
Even as COVID-19 subsides, we will continue to advocate that all our team members be intentional about prioritizing their mental well-being, and we'll support them with tools and resources to assist in getting help and in feeling safe about talking honestly and openly about mental health.
Safety is one of our core values and is part of our DNA at S&C, which is why we are constantly taking steps to enhance our practices and are focusing on our team members' holistic selves. Preventing incidents is a responsibility we have to each other, and we know this work requires dedication and vigilance. This National Safety Month, I want to thank our team members for their commitment to safety and for demonstrating and living this S&C core value in all they do. Our team members, and their engagement and conviction, are what make S&C a great place to work and help ensure we all come home safely to our families at the end of each day.
Expert
Publication Date
June 2, 2021