A Holistic Protection Strategy: Why it Matters
Back to Top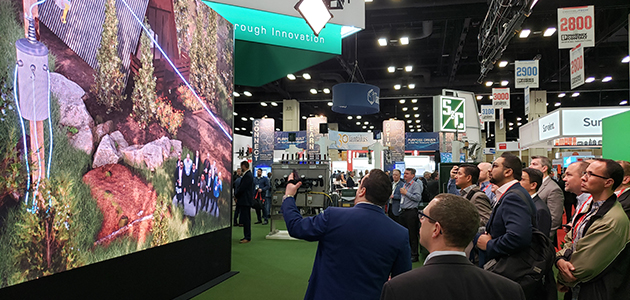 We have just come back from DistribuTECH in San Antonio, and thanks to everyone who stopped by our booth. For those who attended the show, you might have noticed a massive LED screen in our booth—it was 15 x 20 feet, so it was a little hard to miss!
Though attention-grabbing—especially because people could see themselves projected into common scenarios that challenge the grid, such as storms and blizzards—this was part of a demonstration designed to bring us all back to why what we all do matters.
It can be easy sometimes, especially in a sea of exhibitor booths, to focus only on what products do and how they operate and pit functions and features against each other. Instead, we wanted to take a step back and focus on the bigger picture—how taking a holistic look at your system and prioritizing key areas on the grid can really start to move the needle on reliability, O&M savings, and customer satisfaction. This strategy has a direct benefit to utilities and their customers.
As we saw ourselves standing in our indoor "blizzard," we witnessed how increased feeder segmentation and automatic restoration can minimize the number of customers who experience an outage. While this directly improves SAIDI and SAIFI, it's more than the metrics—it's realizing, especially in a cold and snowy environment, power isn't just a nice-to-have. It can literally impact the safety and well-being of people.
Similarly, the demo brought us into a summer storm, where we watched how, especially in all the wind and rain, simply getting to a fault can be a challenge. For crews, visibility is limited, making driving difficult and tasks, such as replacing a fuse, less straightforward and far more time-consuming. That's why it's so important to bring fault-testing out to the lateral level. When 80% of overhead faults are temporary, having advanced protection keeps these temporary issues from becoming sustained outages. That results in avoiding the majority of truck rolls, which means you save O&M expenses and crews can prioritize a long list of far more severe storm repairs.
The last key location we visited was a remote cabin at the edge of the grid. Customers such as these are the last to have their power restored, so even a small issue can end up resulting in a long truck roll. Additionally, issues at the edge of the grid tend to cluster into pockets, so even if SAIFI is low, a system average doesn't necessarily convey that some customers have a far worse experience. However, advanced protection now exists that replaces fuses even at the very edge of the grid. That allows you to peel back the layers in the data, home in on Customers Experiencing Multiple Interruptions (CEMI), and use innovations to improve the satisfaction of these customers.
Expert
Publication Date
February 21, 2020