We Need U.S. Manufacturing to Succeed
Back to Top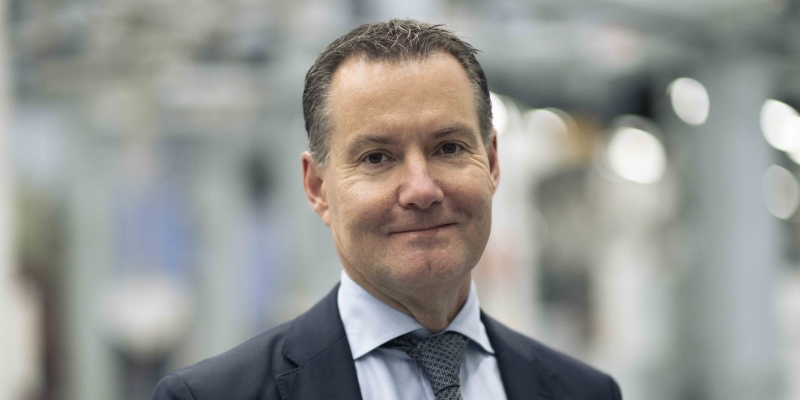 The COVID-19 pandemic was a wakeup call in many ways. When the factories, flights, people, and systems that power our global supply chain and economy stopped, our dependency on this logistical ecosystem became a vulnerability. Many who had never given a second thought to where our basic appliances came from were Googling "supply chain problems," making this phrase among the most searched terms in 2021.
Interruptions to this global value chain of raw-material suppliers, component makers, and manufacturers still reverberate today, disrupting everything from home-improvement projects to critical infrastructure build-out.
With newly focused attention on supply-chain availability and resilience, U.S. manufacturing is at an inflection point. The Infrastructure Bill and CHIPS Act that were passed last year enable direct investment of billions of dollars into the manufacturing sector responsible for critical components, again to improve capacity and supply certainty. According to an analysis by the McKinsey Global Institute, the manufacturing sector was already on an upswing the decade leading up to the COVID-19 pandemic. Between 2010 and 2019, the U.S. added 1.3 million manufacturing jobs to the economy, following the loss of 5.8 million jobs over the previous 10 years.
This is good news. Manufacturing matters to the United States because it provides "high-wage jobs, commercial innovation (the nation's largest source), a key to trade-deficit reduction, and a disproportionately large contribution to environmental sustainability." Continuing the positive momentum behind manufacturing will be transformative for this country.
As the CEO of one of Chicago's largest manufacturing operations, the future of manufacturing and the opportunities our sector represents for present and future employees is personal to me. Earlier this year, we announced an expansion of our U.S. manufacturing operations with a new 275,000 square foot facility in the Chicago area. With around 350 open roles spanning engineering and production, we want people to know that S&C offers a path to long, fulfilling careers for everyone, from manufacturing and engineering to all other functions across the company.
And because we innovate, design, and manufacture technology for advancing a more reliable and resilient electrical distribution grid, our work is both essential and vitally important as the world transitions to lower carbon sources of energy, like renewables and electricity.
This energy transition is unprecedented in both scale and speed. The move towards electrification as a source of energy, supported by a resilient and intelligent grid, will reduce our energy-related CO2 emissions and carbon footprint. With climate goals requiring net-zero emissions by 2050 following the Paris Agreement, managing this transition and ensuring the stability of the grid is crucial to our future sustainability.
Manufacturing is imperative to this transition and to achieving overall sustainability goals. In the U.S., manufacturing accounts for about a quarter (23%) of direct carbon emissions, according to the Environmental Protection Agency. Following China, the U.S releases the highest percentage, 12.6%, of total global emissions.
U.S. manufacturing offers incredible potential for reaching our climate goals.
Manufacturing is evolving
At the end of the 19th century, the production of electricity ushered in the second industrial revolution. This form of energy allowed for much more efficient production methods and communication technologies, leading to vast increases in productivity.
However, because fossil fuel as an energy source still dominated the industry, the economic growth created by this industrial revolution also led to emissions. Now the industry is rethinking those dominant paradigms to make manufacturing more sustainable and more resilient. Digitalization is also changing our industry, enabling the use of data to drive efficiencies and thereby decrease the carbon footprint.
At S&C, we drive positive environmental outcomes throughout our products' life cycle, from design through manufacturing, operation, upgrades, and end of life. In the world of 21st century manufacturing, we are minimizing waste, limiting our emissions of greenhouse gases and volatile organic compounds, and keeping solid waste out of landfills.
Let's come back once again to the supply chain. I mentioned earlier the logistical challenges that became obvious because of COVID-19 shutdowns, but we must not forget about the emissions associated with the logistical process of shipping goods long distances. According to the International Maritime Organization, cargo-ship emissions account for 3% of the world's total annual emissions. The Environmental Defense Fund says freight-truck movement is responsible for 7% of all industry greenhouse gas emissions in the U.S.
Onshoring and regionalizing manufacturing will reduce the need for long-haul shipping. At the same time, cleaner and greener manufacturing processes can further reduce environmental impact. Finally, manufacturing also has broad social and economic implications because it can provide economic security for the country and financial security for a diverse population.
Diversity and Inclusivity
Manufacturing is the fifth-largest employer in the United States, and it can be a bellwether for economic growth and environmental stability.
For our company's own hiring purposes, we want people to know and recognize that manufacturing offers meaningful, long-term rewarding careers. We need dedicated, enthusiastic team members to advance the 21st century power grid. Beyond that, we must view manufacturing through a broader lens of what it can do for gender, what it can do for race, what it can do for people from different educational backgrounds, and for what it can do for people from disparate parts of the country.
This sector employs people of different genders and of different educational and racial backgrounds, and it supports jobs for workers and communities across the continent, offering solid economic opportunities that are skills-based rather than degree-based. According to the Brookings Institution, manufacturing apprenticeship programs or internship programs can create greater economic opportunities for a wider segment of the population than any other industry.
Are we there yet? Not quite, but we in manufacturing like to solve problems. In the past, we have successfully built cultures around safety, quality, and integrity. Now we are doing the same to become greener and more diverse.
As an industry, we need to do our part to attract more women, minorities, and younger generations to the manufacturing workforce. This requires a comprehensive plan, with broad-based diversity, equity, and inclusion programs, and commitment from leadership.
In the U.S, manufacturing has long been the foundation of the country. With continued investment and collaboration to build the manufacturing industry and help us become more resilient, innovative, and sustainable, we can address pervasive supply-chain issues, provide environmental stewardship and leadership through the energy transition, and provide jobs that unlock career and economic opportunities for more people.
If we can do this, manufacturing offers perhaps our greatest opportunity at success in building a more economically resilient, inclusive, and sustainable society.
Expert
Publication Date
September 18, 2023