Decarbonization Grows as a Goal, but Can Our Grid Infrastructure Support It?
Back to Top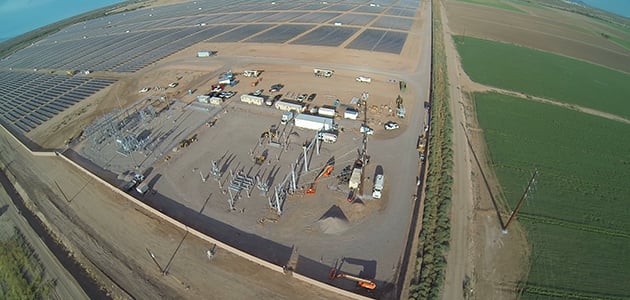 In an earlier GridTalk item I discussed the importance of utilities and other customers evaluating existing infrastructure when planning big projects. As more local and state governments set decarbonization goals, they similarly will find evaluating alternative sources of power and the infrastructure necessary to support clean energy equally important.
How is clean energy going to be supported with the existing infrastructure and present grid? What grid equipment must utilities have to support clean-energy deployment? And what resiliency solutions are available to support them? These are just a few of the questions emerging as conversations grow around helping communities achieve net-zero carbon emissions.
These initiatives are not small. Cities such as San Francisco; Washington, D.C.; and New York all have made carbon-reduction commitments. To accomplish their goals, cities are talking with multiple stakeholders, including utilities, clean-energy coalitions, service and solutions providers, community outreach programs, lawmakers, and lobbyists. Their message: Approving new major projects, or even infrastructure upgrades, must support our long-term decarbonization goals.
Many of these initiatives have one thing in common: They require renewable power. But how do we implement these plans when we do not presently have enough reliable, renewable power deployed to support mass deployment of clean-energy activity? When we're talking now with our customers, end-users, and vendors, we're evaluating a variety of different options to help fulfill their goals. With these aggressive initiatives, it is no longer acceptable to simply add a new generator and be good to go.
The long-term implications are significant. Many utilities have already established their own decarbonization goals. For example, Duke Energy has goals to achieve net-zero carbon emissions by 2050. And Eversource Energy is investing in offshore wind to help support clean-energy goals in the states it serves.
While it is one thing for decarbonization efforts to take off locally, what the federal government does to support them will play an important role in whether support for infrastructure improvements is coming. As a new administration takes over in January 2021, we'll next examine in a GridTalk item changes in policy and the effects they could have on helping achieve efforts nationally to reduce our carbon footprint. Stay tuned!
Expert
Publication Date
November 30, 2020