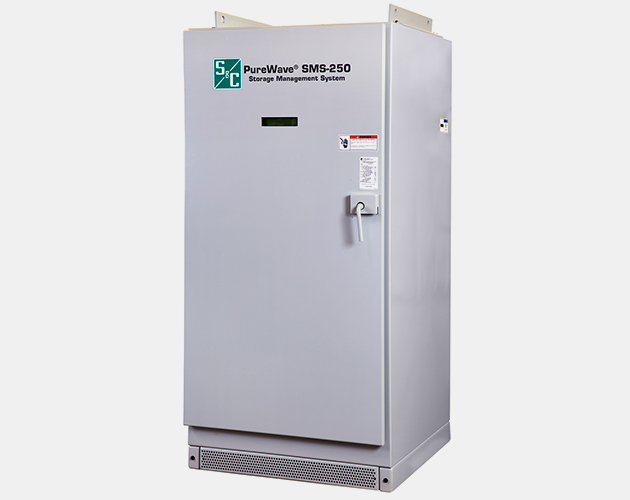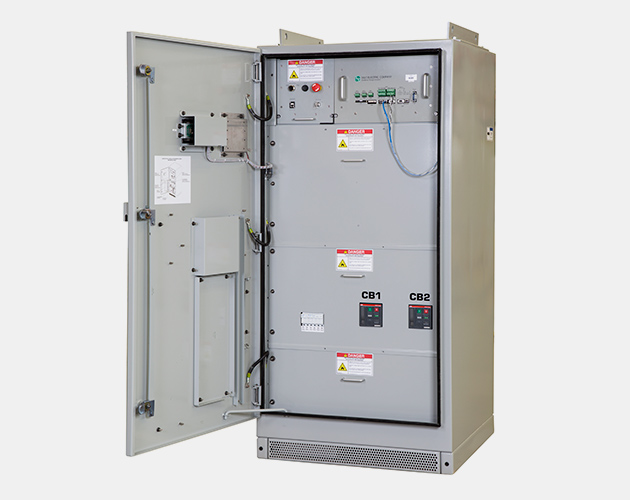 PureWave® SMS-250 Storage Management System
Scalable energy storage for utility, renewable, and microgrid energy-storage applications
Offers an outdoor three-phase four quadrant converter system dedicated to energy storage solutions requiring less than 1 MW of power
250 kW of scalable energy storage for utility, renewable, and microgrid energy-storage applications.
Features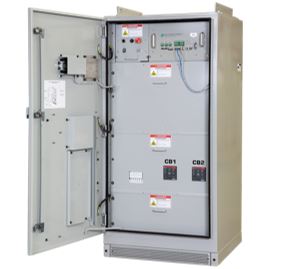 The PureWave SMS-250 Storage Management System offers an outdoor three-phase four quadrant converter system dedicated to energy storage solutions requiring less than 1 MW of power. It can operate in different modes, including Current Source mode, Voltage Source mode, and Islanded mode.
Four-Quadrant Operation
The PureWave SMS-250 is capable of delivering:
Full real power output (both positive and negative)
Full reactive power output (both capacitive and inductive)
A combination of both real and reactive power

Grid-Interface Ready
Grid-interface control embedded in the unit's controller is ready for grid-interface switchgear.
Connects to Different Battery Types
Works with energy storage systems' various battery chemistries, including sodium-sulfur, lithium ion, sodium-nickel chloride, lead-acid, and advanced lead-acid batteries.
Modular
Modular design makes the product simpler to handle and easier to troubleshoot, resulting in faster repair time and lower repair and inventory costs.
Scalable
Scalable design allows for progressive project-size expansion (paralleling additional units for larger application rating).
Two or more SMS-250 units can operate in parallel, thus boosting the Storage Management System power capabilities to 500 kW, 750 kW, and more, if needed.
Multiple Energy Storage Applications
Includes a standard and custom field-proven control-algorithm library of power solutions for utility, renewable, microgrid, and off-grid applications.
Ratings
The PureWave SMS-250 Storage Management System has a nominal rating of 250 kW.
Power Rating: 400 amperes continuous
Power-output rating varies according the connected voltage, as shown below:
263 kVA @ 380 Vac
288 kVA @ 415 Vac
333 kVA @ 480 Vac
Has a flexible configuration and can be programmed to deliver only real power (power factor=1, i.e. kW), only reactive power (power factor=0; vars), or a combination of both (0 < power factor <1).
Dc Input Ratings
Voltage (Battery): 618 – 850 Vdc
Environment
Temperature Range

Standard: -40° C to +40° C
Extended: -40° C to +50° C with de-rating

Cooling
Protection Class

NEMA-3R / IP54 (Outdoor Enclosure)

Humidity
Altitude

Standards
Design standards cover the United States, Canada, Europe, and any other country that uses the following standards.
NFPA 704, Identification of the Hazards of Material for Emergency Response
ANSI / IEEE C2-2007 National Electrical Safety Code
IEEE 1547-2003 Interconnecting Distributed Resources with Electric Power Systems
IEEE 519-1992 IEEE Harmonic Limits
IEC 62040-2 C3 EMC Compliant
ANSI Z535 – 2002 Product Safety Signs and Labels
Packaging
Packaging includes three main features:
Modular & Scalable
Modular design allows for improved reliability, easier troubleshooting, simpler product handling, improved predictive maintenance, and lower inventory and repair cost with faster repair time.
Scalable design allows for parallel operation of multiple PureWave SMS-250 units, giving the end user the flexibility of progressive project-size expansion (paralleling additional units for a larger application rating). Two PureWave SMS-250 units can be configured in a master-slave hierarchy. More than two SMS-250 units can be paralleled and controlled with the Master Controller.
Compartmentalized Design
Compartmentalized design improves product handling and performance. More specifically, it:
Segregates and simplifies circuit design
Lowers component count
Improves noise immunity
Hastens and simplifies component serviceability
Improves component circuit functionality & reliability

Compact Package
Compact packaging provides a:
Smaller cabinet for easier handling
Smaller footprint to save space
Lighter package for easier lifting
Communication & Control
Standard Communication Protocols

System Operation
Configurable for Grid-Connected or Islanded operation. Embedded advanced control algorithms offer an extensive library of standard and custom power control application modes, including:
Reliability
Frequency regulation
Spinning reserve
Capacity firming
Power smoothing
Ramp rate control
Voltage support
Var support
Islanding
Peak shaving
Energy time shifting
Custom design application profile
Human Machine Interface
Includes a Web-based HMI user interface that provides integrated control and monitoring of the energy storage system. HMI screens give an overview of the entire energy storage system status. It provides:
Inverter information, including actual performance data, such as voltage, current, power, etc.
Battery information, including actual performance data, such as voltage, current, and power.
Utility information, including actual performance data, such as voltage, current, and power.
Communication status, indicating device communication state.
System operation state, indicating operating status.
Alarm status, indicating the system alarm state.