The Power of 'Respect for People'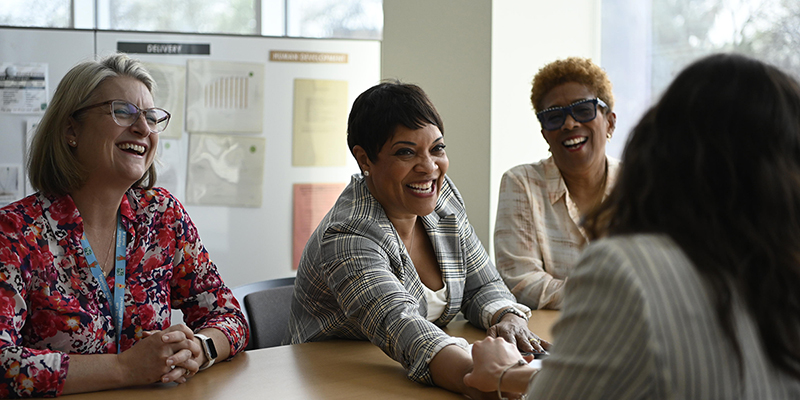 "In a world where you can be anything, be kind."
These are important words, and I think about them quite a bit as we work to foster inclusivity and belonging at S&C.
To begin with, we truly believe in the power of "Respect for People." As one of our core values, it represents who we are as a company. We want team members to know when they step through our doors they'll be seen, heard, and treated with fairness and respect, no matter who they are or how they identify.
To put this into practice, we take a multifaceted approach to diversity, equity, and inclusion. Here are just a few things we focus on:
Benefits
We've modernized our benefits programs to ensure they are inclusive and considerate of the diverse lives we lead today. From domestic partnerships to adoption services and fertility support, S&C wants to make sure our team members are covered. We also offer paid parental time off for new parents, including for adoptive parents. For new mothers, we have on-site lactation rooms and flexible break policies.
Affinity Groups
But it's not just about benefits. We believe in creating a supportive environment where team members can connect with like-minded individuals and share experiences. We also understand the importance of creating a safe space for all team members to deepen their knowledge, expand their empathy for the experiences of diverse individuals, and become self-aware of their unconscious biases. That's why we have affinity groups.
These groups foster inclusion, personal growth, and networking opportunities. We have groups like S&C Connects, which empowers young team members to connect with our company's culture and history. The I.D.E.A. Group focuses on promoting diversity and inclusion in our workplace. Spectrum works to create a safe and supportive space for LGBTQ+ team members by advocating for inclusive policies and educating others. We also have groups for women and their allies, Canadian professionals, and so much more.
Education
Beyond that, we are committed to educating our team members about different cultures, traditions, and celebrations. We believe allyship starts with understanding. That's why we observe important holidays and months of focus throughout the year, like Black History Month, Women's History Month, Asian American and Pacific Islander Heritage Month, Pride Month, Juneteenth, and Hispanic Heritage Month, just to name a few. We also bring in external DE&I advocates and advisers to share their valuable knowledge and experiences directly with our team members.
These are just some of the ways we show we value each other and our differences. Respecting each other means we approach our differences with patience, understanding, and inclusion. It also means at S&C, where we can be anything, we choose to be kind.
Expert
Felicia Kohlenberger
Publication Date
June 30, 2023