S&C Honored With Several Regional and National Awards, Including as One of Chicago's Top Workplaces for 5th Consecutive Year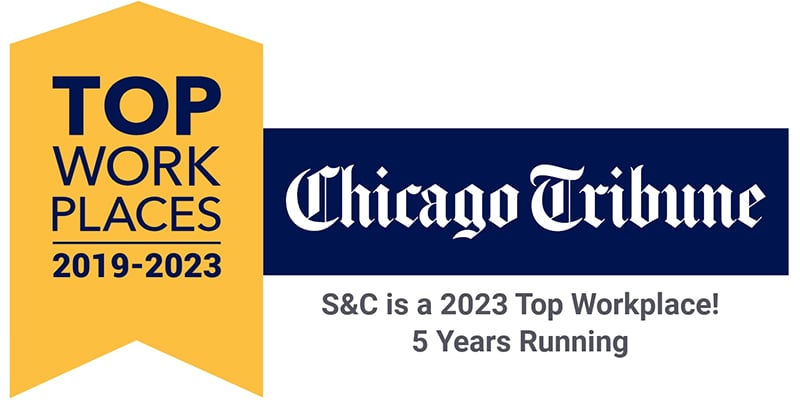 • Recognized by the city of Chicago for its robust workforce development and productivity focus
• National Top Workplace 2023 awards for Manufacturing and Employee Well-Being
CHICAGO, November 8, 2023 –S&C Electric Company, a leader in reliable and resilient grid infrastructure, has been named one of the Chicago Tribune's best places to work among large employers in the Chicago area. The distinction, determined by anonymous, direct feedback gathered from S&C team members, is among many recently bestowed upon the company.
Last month, S&C was also honored by the city of Chicago and World Business Chicago with a 2023 Manufacturing award in the Workforce Development and Productivity category. The award recognizes businesses with a proven record of implementing training programs to prepare their workforce for the jobs of the future. Held during Illinois Manufacturing Month, the awards emphasize the importance of the manufacturing and industrial sectors to the local and regional economy.
In addition, S&C recently received several national 2023 Top Workplace awards, including for Employee Well-Being and Culture. This means S&C team members believe the company puts health and wellness at the center of its workplace culture. Earlier this year, S&C was again recognized nationally as a Manufacturing Industry Top Workplace.
"We are honored that S&C continues to be recognized for our commitment to manufacturing, our investment in the Chicago area, and our strong safety and employee-focused culture," said Anders Sjoelin, S&C president and CEO. "Our focus on building a diverse and inclusive workforce centered around employee safety, health, and well-being speaks to our core value of caring for people. Believing that everyone at S&C is essential helps us attract and retain the best and brightest talent in Chicago and around the world. Together, we play a vital role in helping to transform the electrical grid for a sustainable, outage-free future."
With an average team member tenure of 11 years—far exceeding the national average for the manufacturing industry—S&C's commitment to providing meaningful, challenging careers with advancement opportunities has long differentiated the company as an employer of choice.
Expert
S&C Electric Company
Publication Date
November 8, 2023