S&C Electric Company Named Among Top 2023 Workplaces in the United States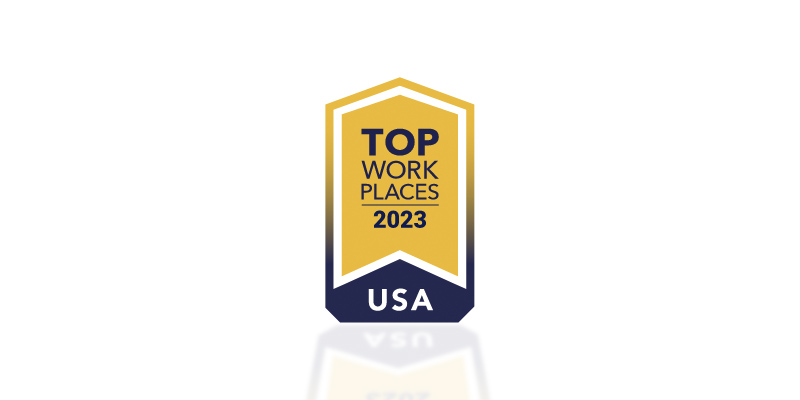 Leader in Grid Resilience Technologies Honored on Top Workplaces USA List for Third Year in a Row
CHICAGO, March 7, 2023 – S&C Electric Company has been recognized as a top employer in the United States for the third year in a row by Top Workplaces USA. The 2023 Top Workplaces USA award celebrates nationally recognized companies that make the world a better place to work by prioritizing a people-centered culture and giving employees a voice.
The award is based entirely on feedback from an engagement survey completed by the employees of participating workplaces. A third-party research firm, Energage, runs the survey and then calculates the list of top workplaces.
"We are truly honored that our team members recognize us as one of the nation's Top Workplaces. We embrace our culture, where we respect and care for each other and ensure that everyone has the opportunity to build meaningful careers," said Anders Sjoelin, president and CEO of S&C Electric Company. "We also take great pride that the work we do here is truly making a difference by modernizing the electrical grid and helping make power distribution more reliable, resilient, and sustainable for this and coming generations."
With an average team member tenure of 11 years—far exceeding the national average for the manufacturing industry—S&C's commitment to providing meaningful, challenging careers with advancement opportunities has long differentiated the company as an employer of choice.
S&C is also committed to a strong safety culture, with CEO Sjoelin recently named by the National Safety Council in Safety + Health's "2023 CEOs Who Get it" safety issue. For Sjoelin, "Safety is a team sport. A sense of safety is not enough. We need to build a culture of safety, and there are no shortcuts. It is important for me that our team members understand that safety is a core value and our number one priority at S&C. We truly care about their well-being."
In addition to national recognition as a top workplace, S&C was recognized as one of the best large employers in the Chicago Tribune's Top Workplaces list. Headquartered in Chicago for more than 110 years, S&C is Chicago's second-largest manufacturer and employs more than 3,500 team members globally.
Finally, Great Place to Work Canada re-certified S&C Electric Canada as a Great Place to Work as of October 2022. Great Place to Work Canada also recognized the company as a Great Place to Work in 2020 and included S&C on the Best Workplaces in Ontario and Best Workplaces in Manufacturing lists in 2021.
Expert
S&C Electric Company
Publication Date
March 7, 2023