S&C Electric Company Reveals Power Reliability Continues to be Hindrance to Business Growth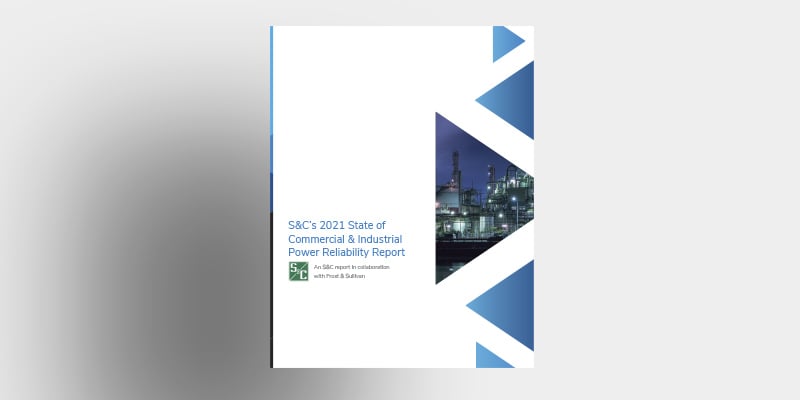 Company's "2020 State of Commercial and Industrial Power Reliability Report" reveals impact inadequate power has on C&I companies
CHICAGO, March 9, 2020 – For the third consecutive year, S&C Electric Company, a smart grid leader improving power reliability and delivery worldwide, issued its "2020 State of Commercial and Industrial Power Reliability Report" (C&I Report). Written and researched in collaboration with Frost & Sullivan, the 2020 edition surveyed 255 commercial and industrial (C&I) companies and was developed to better understand how poor power reliability affects these companies and what considerations they have given to alternative energy options as a means to improve power reliability.
"As C&I companies rely more and more on technology and automation to remain competitive, they naturally have a greater need for highly reliable power. Even a few seconds without power can end up having a much longer impact on their business," said Brian Levite, S&C Regulatory Affairs Director. "We're seeing that these C&I companies are expecting utilities to improve power reliability in tandem with the evolution of today's business operations—and yet power reliability remains stagnant. This gap is widening quickly and could really come to a head in a matter of a couple of years."
Breaking the research into four primary U.S. geographic regions, the 2020 C&I Report reflects the sentiments of five major industry categories: manufacturing, healthcare, small franchises, education, and retailers.
Among the most noteworthy findings from the C&I Report are:
Reliability is stagnant, yet C&I companies are expecting significant improvements.
Measuring the duration and frequency of outages over three years, survey data show little improvement. Nearly a quarter of companies (21%) experienced outages monthly, and 35% of companies noted power blinks occurring at least weekly or two to three times a week. And yet, 55% of companies expected power reliability to improve, indicating a growing divide between what C&I companies expect and how utilities are performing.
An unreliable grid continues to impact business' bottom line.
Outages are proving to be costly for C&I companies. In 2020, 79% of companies experiencing weekly outages estimated their loss to be at least $50,000 per outage, and 45% of companies experiencing an outage once a week or more estimated their annual loss to be between $5.2 million and $104 million.
These high costs of unreliable power are spurring 61% of companies to install back-up energy sources.
Companies are tracking and seeking compensation for outages.
Unreliable power has a direct impact on C&I company profitability, so much so they're willing to take drastic measures to mitigate revenue loss. More than one-third of companies (35%) were willing to pay more to guarantee electricity during a natural disaster or periods of inclement weather, while a similar percentage (38%) would pay more for power to be restored within five minutes. In addition, more than half (57%) of C&I companies were planning to track outage expenses or were already doing so, and 21% had sought compensation from their utilities for the resulting impacts outages had on their operations.
To view the complete 2020 State of Commercial and Industrial Power Reliability Report, click here.
Expert
S&C Electric Company
Publication Date
March 9, 2020