S&C Electric Company Employees Raise Nearly $450k for Local Chicago Charities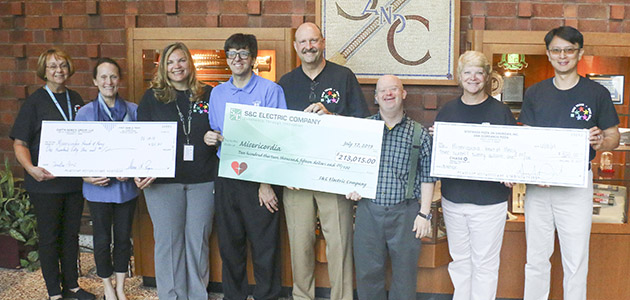 Misericordia, Community Health Charities and United Way benefit from annual employee-driven giving campaign
CHICAGO, Wednesday, July 17, 2019 – Today, S&C Electric Company, a smart grid leader improving power reliability and delivery worldwide, was joined by Misericordia, Community Health Charities and United Way of Metro Chicago at S&C's Rogers Park campus for the organization's annual giving campaign. This year, S&C collectively raised nearly $450,000 through employee donations, contributions from neighborhood restaurants and a 150 percent match from S&C.

"Providing local charities with crucial funds to continue the work they do within our community is an important part of our company values," said Kyle Seymour, president and CEO of S&C Electric Company. "We care about our neighbors and take pride in maintaining strong, supportive relationships within the communities we work. I am proud to present Misericordia, Community Health Charities and United Way with these checks today as they each work toward bettering the lives of Chicagoans in need."

Representatives of each charity were present to receive the donation, including two Misericordia residents and a Special Olympics athlete from Community Health Charities. The largest donation, $213,015, went to Misericordia, a Rogers Park-located charity that helps people with disabilities achieve maximum independence and realize their greatest potential. Community Health Charities and United Way received $129,745 and $98,100, respectively.

"We've had a longstanding relationship with S&C, from employing several of our residents to receiving donations over the years," said Martha Floberg, development officer of Misericordia. "We're thrilled to be here today to receive this check. S&C's support enables us to continue providing our residents with the best environment possible, which translates to peace of mind for their families and loved ones."

For more information about S&C, please visit www.sandc.com.
Expert
S&C Electric Company
Publication Date
July 17, 2019