Innovating for a Sustainable Future
Back to Top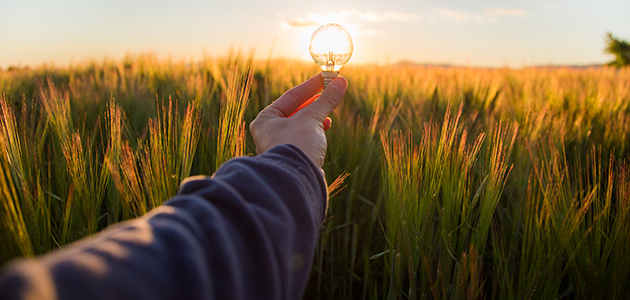 There's a saying among those of us in the power industry that people don't think about the electrical grid until the power goes out. But this Earth Day, as we fight against climate change and drive toward a more sustainable future, the grid matters more than ever.
To begin with, global sustainability targets and the push toward clean energy mean the grid must also transform for the future. While power generation and transmission often get the most attention, it is distribution, the part of the grid that delivers electricity to our homes, hospitals, and critical infrastructure, that is most important. That's why we must continue to innovate and invest in distribution for a more sustainable future.
Today, all our modern conveniences are powered by electricity, and we have become increasingly dependent. The COVID-19 pandemic accelerated this trend by changing how, when, and where we work. This surge in residential demand during traditionally "off-peak" hours continues today. Given how much of our lives, professional and personal, are increasingly dependent on devices and data networks that must be powered, it's clear that a reliable and resilient grid is crucial. Today, a power outage is more than inconvenient; it could have a domino effect of severe consequences.
Yet, climate change is causing more frequent and more intense weather patterns, adding further complexity to the grid. Distribution, because it is closer to the end-user, is the most susceptible to the effects of these destructive storms. According to the National Oceanic and Atmospheric Administration, the U.S. experienced a record-breaking 22 weather and climate disasters that each caused at least $1 billion in damages in 2020. These events caused widespread power outages, leaving communities without electricity for days or even weeks. A stronger distribution grid, with intelligence, automation, and power monitoring, can help minimize the impact of these events and ensure essential services continue to operate.
Climate change and climate-related natural disasters will only increase if we cannot keep global temperatures in check. To do this, decarbonization is key. As we shift to clean energy in the form of electricity, our grid must become more sustainable, intelligent, resilient, and energy efficient. Once again, the distribution grid is essential. A report by the International Energy Agency states that "smart distribution networks are the key enabler of the energy transition, providing the necessary foundation for a more decentralized and renewable-based power system."
Founded over a century ago, S&C has long championed innovation. We've introduced technologies that have transformed the electrical grid with operational improvements and intelligence for safety and increased resilience. We continue to innovate today, with smart grid technology, automation, and control systems that detect and respond to faults, improving system resilience, reducing the need for costly upgrades and maintenance, and most importantly, keeping the power on everywhere it's needed.
While we focus on innovations that support our customers through the energy transition and create a cleaner, more efficient, and more resilient power system, we are also innovating to support our companywide sustainability efforts. Since the 1990s, we have reduced our volatile organic compounds and hazardous air pollutants emissions by 97% and 99%, respectively. We significantly reduced these by transitioning our paint lines from liquid to powder paint coatings across our global facilities. Moreover, while our manufacturing footprint has grown, our greenhouse gas emissions have significantly decreased. We have achieved this reduction through concentrated initiatives to reduce fugitive emissions of SF₆, promote energy efficiency, and reduce our fuel consumption.
Finally, one of our proudest achievements has been our progress toward our goal of diverting 99% of waste generated by our global operations from landfills. This required substantial planning, involvement, and dedication from team members across every functional area of our business. We're nearly there, with data gathered earlier this year indicating we're currently diverting 98.7% of our global waste from landfills. This accomplishment recently earned us recognition as a Gold-Level partner in the We Compost Recognition Program by the Illinois Food Scrap and Composting Coalition.
As we look ahead, global sustainability goals will continue to drive innovation at S&C, both internally and externally. Clear and long-term targets, with commitments and initiatives to achieve them, continued work on energy efficiency, and strong collaboration among stakeholders, are the keys to a lower carbon future. The next decade is a critical window for companies, policymakers, and society to collaborate globally and accelerate the transition to a sustainable economy.
With the world at a crossroads, our work today impacts the world of tomorrow. As we celebrate Earth Day, let us remember that we all have a role to play in creating a sustainable future. We must continue to innovate, collaborate, and invest in a more resilient and sustainable grid from source to socket. At S&C, we remain committed to driving innovation and leading the charge toward a more sustainable energy future. Together, we can make a difference and create a better, and more sustainable, world.
Expert
Publication Date
April 21, 2023