Rev Up EV Fleets With a Distributed System Design
Back to Top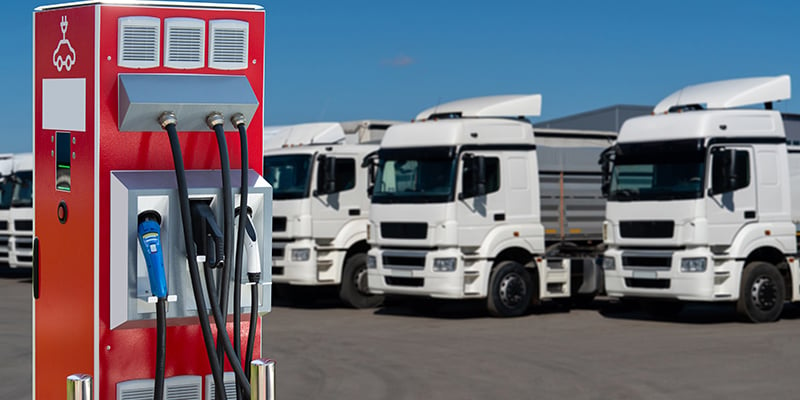 Electric vehicle (EV) fleet growth is rapidly accelerating, with regulatory pressure playing a key role. The U.S. Environmental Protection Agency says vehicle fleet emissions must drop by 13% per year between 2026 and 2032 to reduce carbon emissions.
Many companies have begun using EV fleets to transport goods and services sustainably. This includes some of the biggest household names. Amazon late last year added 100,000 EVs for delivery routes to more than 100 U.S. cities. IKEA wants to reduce its carbon footprint in every transport it does by 70% by 2030. PepsiCo owns the largest private EV fleet in the U.S., and the fleet will keep growing as the company strives for a 75% emission reduction in seven years.
How uncharged EVs impact commerce and consumers
More and more big-name companies rely on EVs for their daily operations. But power outages can impact the ability to charge their fleets. These outages not only translate to lost revenue, but they also can impact commerce because so many consumers rely on the essential goods and services the businesses provide.
Companies are actively looking for solutions to keep the power on at their facilities—and to support their EVs. While solutions for a resilient low-voltage system are necessary to charge EV fleets, medium-voltage systems are also important. If the medium-voltage system doesn't reliably distribute power to the low-voltage system, EVs don't get charged.
Reliable EV charging starts with a resilient system design
Building redundancy into an electrical system ensures faults won't cause an outage for an entire facility and all its EV chargers. This is possible through a distributed design, which is powered by alternate sources and enables segmentation to isolate faults to smaller parts of the system. Utilities use this tried-and-true system design for greater resilience, and it can be applied to any facility.
The equipment companies use on their distributed system also determines how well they manage outages. Robust switchgear can automatically respond to issues and withstand severe weather. With more frequent and severe storms on the horizon, companies can't afford for weather to impact operations.
EV fleets are the future: Is your system ready for them?
Companies can prepare for an electrified future with a dual investment in EV fleets and a resilient medium-voltage system. A robust system gives companies the power to ride through outages and the ability to drive the national economy in a sustainable way.
Expert
Publication Date
May 23, 2023