Transforming Power into Purpose
Back to Top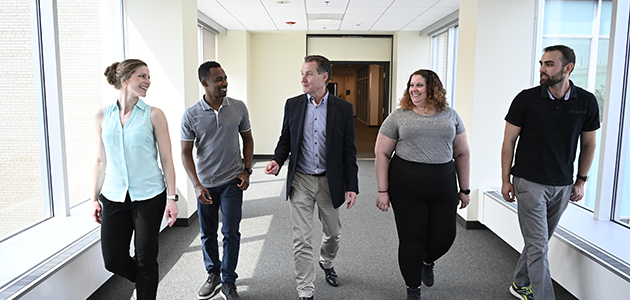 For more than 110 years, S&C Electric Company has been driven by the talent, passion, and innovative spirit of our team members who help our customers provide safe, resilient, and reliable power across the world. Today, we are accelerating that meaningful work, delivering solutions and innovations that support our customers as they enable the energy transition toward the long-term shift to electrification, more sustainable energy systems, and greater grid intelligence.
Our industry is at an inflection point that calls on us to address the impacts of climate change and improve the energy resilience critical for homes, industries, and economies across the world. We embrace our role as an industry leader and leverage our legacy of innovation to transform the electrical grid and address the need for a stable, sustainable, and flexible energy system.
As we strive to secure a sustainable energy future, we uphold the responsibility we have to our team members, our communities, and our customers to holistically address the most important environmental, social, and governance (ESG) priorities for our business. Our sustainability approach is built around three key priorities—empowered team members, customer-centered innovation, and operational excellence— and we continue to make strong progress in our ESG journey.
As an employee-owned company, our people-first mentality drives the decisions we make and the culture we create. In 2021, we raised our minimum wage to $18 per hour in the U.S., and we set an aggressive goal to be recordable-injury free … zero injuries!
At S&C, everyone is essential. We believe diverse, inclusive teams empower each other to innovate and do their best work. Together, we drive for equity in order to build meaningful, challenging careers and to care for our communities and each other. We celebrate our successes, learn and grow from our mistakes, and inspire each other to create the grid—and workplace—of the future.
In 2021, we launched our latest industry-leading innovation, Vista® Green Underground Distribution Switchgear, further helping our customers realize their resiliency and sustainability goals. This solution has a 97 percent lower carbon footprint than conventional switchgear and demonstrates our expertise in developing reliable solutions and our commitment to environmental consciousness. Our innovation efforts and product pipeline will continue to focus on how we can best address climate change and enable a greener grid.
We are proud to highlight these and other achievements throughout our 2021 ESG Report and will continue to raise the bar and take meaningful action to advance our initiatives. As the urgency grows for a more sustainable future and the world becomes more dependent on electricity, our ESG strategy will drive us to transform power into purpose and strengthen our communities through safe, resilient, and reliable power.
My sincerest thanks to our customers and suppliers for their ongoing partnership and to S&C's dedicated team members around the world who champion our sustainability journey.
This item originally appeared as the CEO message in S&C's recently published 2021 ESG Report.
Expert
Publication Date
August 16, 2022