Our Greatest Asset Is Our People
Back to Top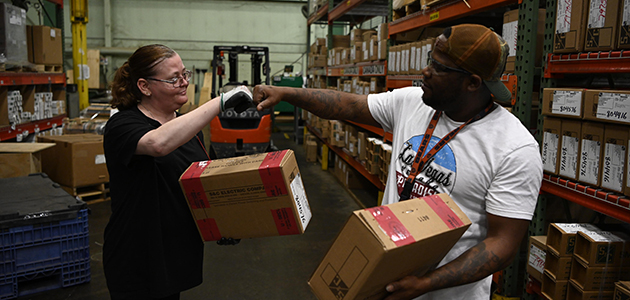 In early November, S&C Electric Company was honored to be named a Chicago Top Workplace for the fourth year in a row. The honor, an employer-recognition program, awards the best workplaces and company cultures based on employee reviews and feedback via an anonymous survey run by a third-party research firm.
Additionally, S&C received country-level recognition as a Great Place to Work in both the general and manufacturing categories in the U.S. and Canada. S&C Canada had also previously been included on the Best Workplaces in Ontario and Canada's Best Workplaces in Manufacturing lists.
At S&C, we're passionate about creating an engaging, inclusive company culture where our team members can do their best work. It's truly an honor S&C is globally recognized as a great place to work, year after year. Caring for our team members has always been at the core of our culture. Whether through providing competitive hourly rates, healthcare benefits, on-the-job education, or career-development opportunities, we have always chosen to invest in our people.
Our culture is one in which we value personal integrity, respect for people, responsible stewardship, and commitment to excellence. These values are embraced throughout our organization, and our team members embody these values by treating everyone in a manner that promotes trust, dignity, fairness, and respect.
S&C's commitment to providing meaningful, challenging careers with advancement opportunities has long differentiated the company as an employer of choice. The average S&C team member tenure in the U.S. is 11 years—far exceeding the national average for the manufacturing industry. Across the organization, S&C's development and leadership training programs provide knowledge-building and skill-development opportunities to help team members achieve their career goals.
But don't take my word for it. Here are some highlights from team members about what they love about S&C:
"I am grateful for S&C's commitment to team member development. I started as a machine operator in 2013. By taking advantage of training, mentoring, and other development opportunities, I was able to move into leadership and am now a department manager."—Andrew Bender, U.S. Assembly Operations.
"S&C has provided me opportunities to learn, grow, and help others over the 25 years I have worked for the company. It's a world-class employee-owned company with huge growth potential that provides excellent opportunities to learn, grow, and advance."—Matt Lubieniecki, Fabrication.
We're grateful to Andrew and Matt for sharing their thoughts. They offer two great examples of the kind of long-term career opportunities team members can find here at S&C.
Today's job seekers are more informed than ever about where they go to work, researching everything from company culture to career opportunities to pay philosophy and more. Hearing directly from team members like Andrew and Matt about why S&C is a great place to work and grow a career is a huge advantage for us, and we're proud of it. More importantly, we're proud that S&C team members play a vital role in helping to transform and modernize the electrical grid.
As the world faces more extreme weather and a rapid shift to clean electricity, the need for grid resilience and S&C technology is greater than ever. Our team members are building both the grid of tomorrow and long-term careers at S&C.
Expert
Publication Date
November 14, 2022