My Experience with Hurricane Irma (and PulseClosing® Technology)
Back to Top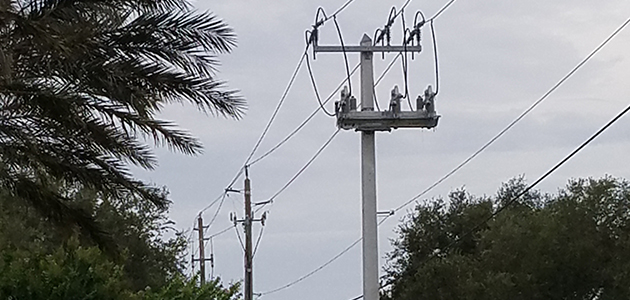 Now that Hurricane Irma has passed, I can now reflect on my preparation. I had several days' notice that a Category 5 storm was approaching, so I secured the windows on my home and placed sandbags at all the entryways. After securing any potential flying objects in my garage, I started packing my personal belongings.

On Saturday, Sept. 9, my family and I were under a mandatory evacuation as Hurricane Irma approached Florida. We left our home in Tampa and stayed with family in a non-evacuation zone 75 miles away in Sarasota to ride out the storm.

As I prepared my home for the hurricane, I thought about how electric utility crews have prepared the grid for what was ahead. As S&C's Global Business Development Manager for Microgrids, I was particularly interested in the work that was done in anticipation for getting the power back on following the hurricane. I noticed crews had installed stronger poles and replaced manually operated switches with intelligent devices, including S&C's IntelliRupter® PulseCloser® Fault Interrupters and TripSaver® II Cutout-Mounted Reclosers.

During our evacuation to the home in Sarasota, I also noticed that our new "shelter" for the next few days was powered by a very long radial feeder. This feeder ran adjacent to the road and had several tall oak and palm trees in close proximity. This one feeder may have looked like many feeders around the country, but what made this one grab my attention was that I noticed it had several of S&C's IntelliRupter fault interrupters deployed on poles along the line.

While we were staying at a location outside the mandatory evacuation area, Hurricane Irma still packed a punch. During the storm, we were very fortunate that we never lost power. The IntelliRupter fault interrupters tested the line each time they sensed a fault using a small amount of current and closed once the cause of any temporary faults went away. In our case, the cause primarily was the palm fronds and branches from the nearby trees being blown by the strong winds into the feeder line. During the evening, we were feeling the full force of the hurricane, and I lost track at the number of times the lights "blinked" at 60 as the IntelliRupter fault interrupters were doing their job.

After the storm passed, we returned home. We were relieved to find only minimal damage.

I'd be interested in hearing first-hand experiences from others affected by Hurricane Irma and whether they, too, noticed the positive effects of intelligent devices helping keep the lights on.
Expert
Publication Date
September 18, 2017