Back to Top
Carreras: Responsabilidad Corporativa
At S&C, we're transforming power into purpose by leveraging the collective efforts of our team members, our environmentally conscious operations, and the positive impact of our products to create long-term, sustainable value. We understand the challenges humanity faces because of climate change, extreme weather events, and the ever-present need for a resilient and reliable electrical grid that can support the world's transition to clean energy.
S&C's 2021 ESG Report details our companywide efforts to address the sustainability issues that matter most to our company, team members, stakeholders, and communities.
Our ESG priorities are directly aligned with S&C's enterprise strategy, underscoring how ESG is integrated into the expectations we have of ourselves and our vision for the future. These priorities include the empowerment of our team members and our relentless drive for customer-centered innovation and achieving the highest standards of operational excellence.
Empowered Team Members
Our people are the heart of S&C. Their exceptional talent and dedication drive S&C's success and create a community where we work together to accelerate both personal development and company growth.
As an employee-owned company, S&C's people-first culture carries through every aspect of our business. We make long-term decisions that benefit our team members and invest in initiatives that lead to their professional and personal fulfillment. This helps us create an environment where the power of our people advances S&C and transforms the grid.
We believe we generate better ideas and make better decisions when everyone has a voice, which is why we regularly ask our team members for their honest feedback. In our 2021 global engagement survey, encompassing both salaried and hourly team members, we received a 74 percent response rate. Here's what we found:
84%of team members would recommend S&C to people they know as a great place to work.
84%of team members believe S&C is taking action to be socially responsible.
83%of team members have confidence in the future of S&C.
Also based on anonymous team member feedback, Top Workplaces USA named S&C a top employer in 2021 and 2022. Honorees were selected based on company efforts to create and sustain a positive, productive culture.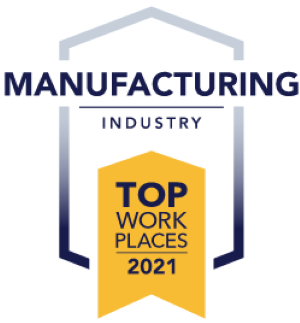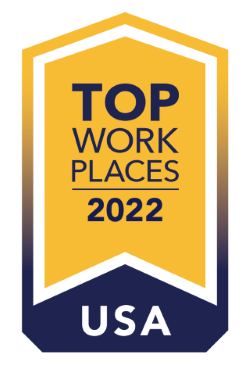 Social Impact & Community Engagement
One of the many ways S&C exemplifies our duty to be a responsible corporate citizen is through investing our time and resources into supporting the communities in which we live and work. S&C has woven our core value of Responsible Stewardship into the very foundation of our business, driving more than a century's worth of charitable giving traditions. In 2021, S&C's community support initiatives resulted in:
$400k+raised through S&C's team-member-led Annual Giving Campaign.
$220k+donated directly to community organizations by the S&C Fund.
$48k+contributed by S&C's regional business units to local causes.
Customer-Centered Innovation
S&C prides itself on its ability to develop innovative and reliable solutions to advance the transition from fossil fuels to clean energy, and help our customers keep the power on around the world.
Our customers are at the center of our entire innovation process. We form longstanding relationships with them and leverage every opportunity for collaboration to better understand their unique business challenges and develop systemwide solutions to maximize the reliability, resilience, and sustainability of the grid.
S&C's Latest Sustainable Solution
In 2021, S&C released its Vista® Green Underground Distribution Switchgear, an industry-leading innovation offering customers a sustainable and reliable alternative to switchgear that uses sulfur hexafluoride (SF6) insulating gas.
As utilities look to reduce their greenhouse gas (GHG) emissions, one of the leading challenges is the industry's reliance on SF6 gas, a GHG with a high global warming potential. Because of its unique properties, including an extremely stable molecular structure, the electrical industry has relied on SF6 gas for decades.
S&C's Vista Green switchgear helps the industry adopt a more sustainable solution. This new design uses a mixture of carbon dioxide and 3M™ Novec™ 4710 Insulating Gas*, providing a 97 percent reduction in carbon footprint compared to SF6 gas options. Designed for resilience and easy operation, Vista Green switchgear delivers the same capabilities as SF6 switchgear with significantly less impact on the environment.
To learn more about Vista Green switchgear, click here.
Operational Excellence
S&C strives for excellence in how we care for each other, our customers, and our communities. For us, this always starts with safety. From how we design our products to how we conduct daily operations, safety is ingrained in everything we do.
"Safety is a team sport. We need everyone working together toward the same goal of preventing injuries. There is no better way to show we care about one another than by keeping each other safe."
S&C's commitment to a safety-first mindset is reflected in our companywide goal to be recordable-injury-free. Toward this end, we empower team members across the business to report safety concerns and recommend improvements. Team members are specifically encouraged to identify leading indicators critical to understanding existing risks and addressing concerns before they cause safety incidents. This approach creates a culture where all team members take ownership of preempting safety issues.
92%of team members feel comfortable reporting any safety concern, no matter how small.
S&C tracks both leading and lagging indicators to gain a holistic picture of our safety performance and trends. Of the key lagging indicators we track—Total Case Incident Rate (TCIR) and Days Away, Restricted, or Transferred (DART)—we are proud to share that we maintain rates well below the industry average.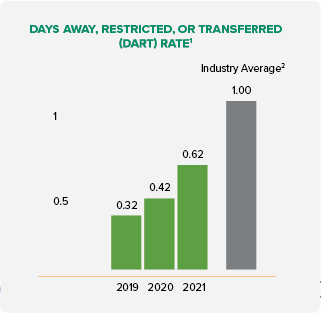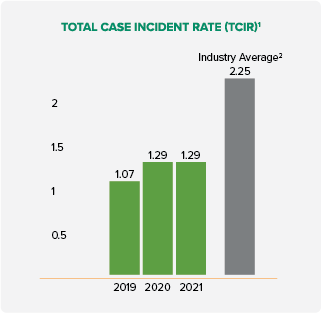 1 Rates are calculated per 100 full-time workers.
2 Graphs depict S&C's TCIR and DART performance from 2021 in comparison to industry averages for TCIR and DART. These industry averages were sourced from 2020 U.S. Department of Labor NAICS statistics.
Environmental Stewardship
S&C recognizes that the power and energy industries can significantly contribute to protecting our planet and reducing the impacts of climate change. We embrace our role in being part of the solution and aim to continuously improve operations and deliver on our environmental commitments.
Driven by our guiding principle of Responsible Stewardship, S&C is dedicated to reducing the environmental impact of our business activities by taking steps to decarbonize operations, divert our waste impact, and responsibly manage the use of natural resources.
In 2021, we continued to refine our global scope 1 and scope 2 GHG emissions inventory and plan of action. Our global scope 1 and scope 2 emissions are to be third-party certified in 2022. As we aggregate emissions data across our locations and identify our global baseline, we intend to announce our carbon footprint goal and finalize a clear blueprint and timeline for achieving it.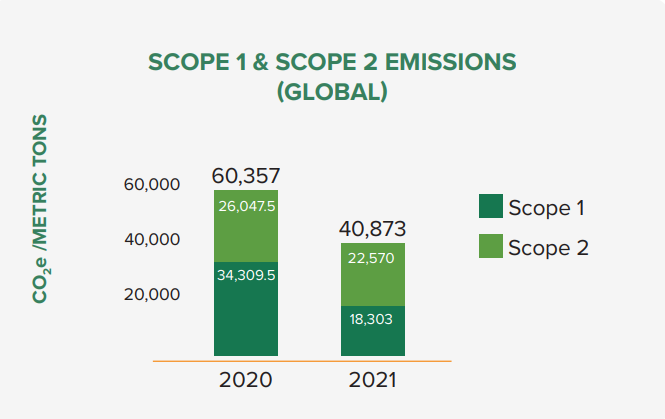 Our global waste-management program focuses on prevention, reuse, recycling, and composting initiatives throughout our facilities. Within the last few years, S&C has matured this program by measuring our waste impact, pursuing third-party expertise on waste-disposal processes, and empowering our team members to contribute to waste-minimization efforts through education and volunteerism programs.
S&C's intent is to divert as much waste as possible from landfills at all global operations. Total waste generated in 2021 was 16.6 million pounds (7,537 metric tons). As a result of the minimization measures throughout our facilities, S&C diverted 98.4 percent of waste from landfills, which amounted to more than 16 million pounds (7,257 metric tons) in 2021.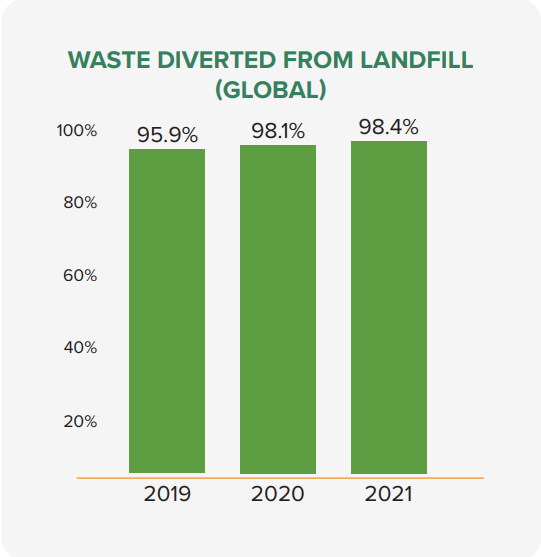 As a company intensely committed to responsible environmental practices, S&C strives to deepen our impact by empowering team members to join our sustainability journey. By embodying our core value of Responsible Stewardship in all our business practices, we've cultivated a strong network of passionate sustainability champions who further S&C's environmental commitments every day.
Through annual events for Earth Day and S&C's team-member led "Sustainability Week," we aim to further education around the environmental issues facing our world and celebrate our team members' dedication to sustainable practices both in and out of the workplace.
Supply Chain Management
As a global provider of equipment and services for electric power systems, we understand the critical nature of maintaining a resilient, reliable, and responsible supply chain. S&C strives to work with goods and services suppliers that share our values and commitments to quality, dependability, integrity, and mutually beneficial results.
S&C is a proud member of the Electric Utility Industry Sustainable Supply Chain Alliance, an organization of utilities and suppliers working together to advance sustainability best practices in utility supply chain activities and supplier networks. Each year, the alliance provides members with a scorecard, ranking their governance and management, product and process design, sourcing, production, distribution and shipping, and end-of-life management. As a result of enhancements in sourcing, distribution, and shipping, S&C improved its overall score from 78 percent in 2020 to 91 percent in 2021.
Buscar vacantes
Ayúdenos a mantener las luces encendidas para miles de millones de personas en todo el mundo. Busque entre nuestras vacantes más abajo.