DistribuTECH 2018 Takeaways: The Future of Microgrids
Back to Top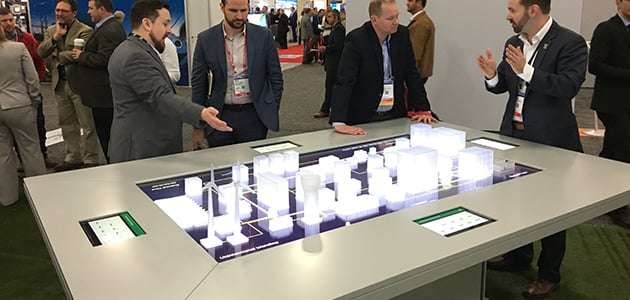 At the end of January, S&C had the privilege to engage our utility partners at DistribuTECH 2018. With microgrids being a new, complex, and popular topic among utilities, we developed an interactive, three-dimensional microgrid demo table to bring the complexities of these systems down to an easily understandable level. This learning tool helped our team demonstrate how microgrids deliver adaptive solutions to challenges on both sides of the meter through a variety of scenarios. The feedback on the tool was incredible, and our lively discussions at the microgrid table resulted in three clear takeaways:
First, there was ample enthusiasm from electric utilities around microgrids. While military bases and university campuses have been embracing microgrids for quite some time, utilities are now seeing the power these systems could have on their distribution systems. From strengthening the grid to providing ancillary services to meeting the needs of critical customers, utilities are recognizing microgrids as an important tool for grid modernization now more than ever. In fact, several utilities mentioned that microgrids were one of their top goals for 2018.
Second, understanding the concept and impact of microgrids, without a microgrid in front of you, is incredibly difficult. The visualization of microgrids is key to understanding the critical planning elements behind each deployment. Very few utility microgrids, such as the one at Ameren, exist on the grid, and utilities want to fully understand how the utility-scale approach will pair with their distribution networks in a safe and seamless way. The industry as a whole is faced with the challenge of proving the impact of these systems, without an abundance of proven case studies. The S&C microgrid table served as a fog-lifter for many of our visitors at DistribuTECH. Seeing how microgrids work in a physical demonstration allowed them to understand the concept in a way not previously possible.
Third, utilities are simultaneously having to think through business cases, technical designs, and business models for a concept they have never implemented before: microgrids. The S&C team fielded questions on everything from how utilities should pay for these systems to the technical specs needed for points of common coupling. Microgrids can require a range of solutions, including equipment, controls, and new business models, to make these projects work. Utilities at DistribuTECH told us they need a partner that can help them with every step of that process–a partner that understands the needs of electric utilities and their networks.
DistribuTECH provided some wonderful opportunities to better educate the industry on the impact and potential of microgrids. It was exciting to speak with so many utility representatives who are eager to break into the microgrid space, and all the questions that our table brought up at the show should help make future microgrid deployments smoother for everyone involved.
Our microgrid demonstration table now resides in S&C's Product Demonstration Center at our Chicago headquarters. We look forward to continued opportunities to share this tool with our partners and to educate the industry on the positive impact microgrids can have on the grid. I'd also be interested in hearing about your microgrid experiences in the Comments below.
Especialista
Data de Publicação
fevereiro 22, 2018