S&C Plants Native Pollinator Garden for Local Community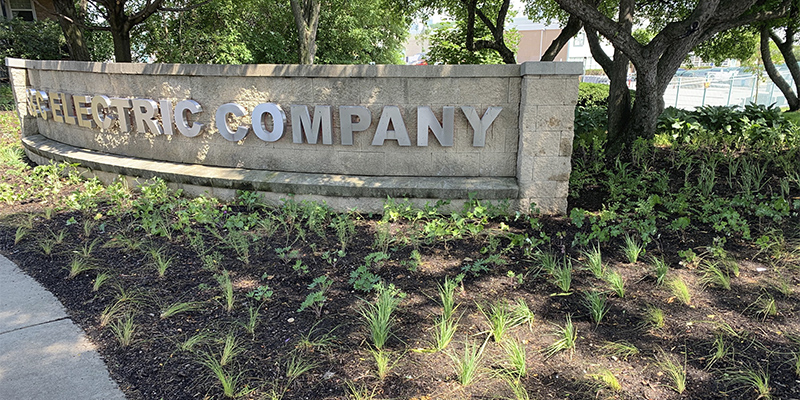 S&C Electric Company is committed to caring for the environment and our community. In 2019, after discussions with the Chicago Field Museum's Keller Science Action Team, we discovered that our Chicago headquarters had several areas with untapped potential to serve as sustainable, native garden gateways for local wildlife.
We identified the Arlys Conrad Memorial Park, at the northwest corner of our campus, as the perfect location to highlight our commitment to corporate responsibility and sustainability. The park, dedicated to the late Arlys Streitmatter Conrad, wife of longtime President and Chairman of the Board John R. Conrad, has served as a tribute to her contributions to our company, community, and neighborhood for many years.
In collaboration with the Keller Science Action Center and landscape designer Pizzo & Associates Ltd., the Arlys Conrad Memorial Park was transformed into a native pollinator garden in 2022. The native garden is a beautiful mix of prairie and woodland plants that bloom throughout the entire growing season.
Adopting native landscaping can provide myriad other benefits that align with S&C's core value of Environmental Stewardship. The garden establishes nature-rich, people-centric landscaping that increases biodiversity and habitat, manages stormwater runoff and soil erosion, draws down greenhouse gases from the atmosphere, and enhances the Rogers Park neighborhood.
Not only does it create a serene space for staff, visitors, and neighbors to enjoy, but it also provides food and shelter for insects and birds. Native plants and insects form the basis of the food chain, meaning their health is critical to the health of those higher up on the chain, including humans.
Research has shown residential and corporate landholders in metropolitan areas can be valuable partners in creating habitats that protect the monarch butterfly and other essential pollinators.
The Arlys Conrad Memorial Park native pollinator garden serves as a prime example of S&C's dedication to sustainability and continued initiatives to be a good corporate citizen and neighbor.
专家
Brian Kane
出版日期
三月 28, 2023