Nurturing Young Talent: S&C Paves the Way
Back to Top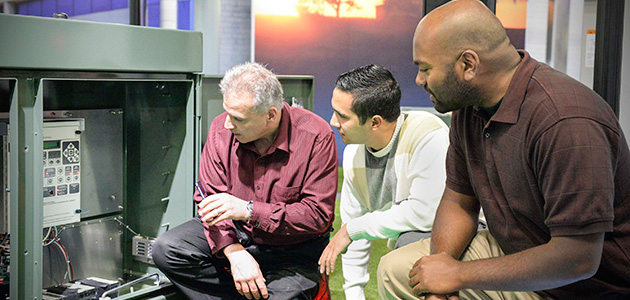 S&C has always been passionate about inspiring the next generation of engineering talent. With that in mind, as we see our experienced engineers, who have contributed to revolutionary innovations, about to retire, we must ensure the next generation is in place to step into their shoes.
As a leading innovator in electrical switching and protection, S&C understands the importance of knowledge-sharing and collaboration to solve the challenges facing electricity networks today. We also know that engaging and inspiring young people is fundamental to continuing our cycle of experience and innovation.
As an advocate for Daniel H. Pink (author of "Drive: The Surprising Truth About What Motivates Us"), I truly believe that, to engage the next generation of bright thinkers to solve complex challenges, we must strive to:
Support Autonomy—We accomplish this by allowing our team members to work autonomously, and we trust them to manage their own work, direct their own lives, and encourage them to bring new ideas to the table. Management increases compliance, but not engagement. Ergo, micromanaging stifles innovation.


Encourage Mastery—Once team members have found an interest, we challenge them to become a master in that field. We support and coach them to build on interests and cultivate passions, and then empower them to share their skills with less-experienced team members and contribute to the collective knowledge pool.


Develop a Purpose—We embrace individuals looking for a sense that what they do serves something meaningful beyond themselves. They are looking for their prospective employers to provide this purpose. Within S&C, purpose is motivating; that's what get's us out of bed in the morning.
S&C's vision is to "empower people to transform the grid." So, for more than 100 years, S&C has empowered its workforce to challenge the status quo and become masters of a field they themselves can help develop to drive the grid forward.
To this end, S&C has a long history of investing in future talent. In one of the latest examples, S&C's Canada Business has joined forces with Electro-Federation Canada, a national not-for-profit industry association, to offer a student $3,500 scholarship. This year, Electro-Federation Canada's members will support more than $150,000 awarded across 57 scholarships.
The S&C scholarship will be granted to a student attending a university within the province of Ontario or the cities of Montreal or Calgary. The student will have successfully completed at least the first year of study in electronics, engineering, or another discipline related to the electrical industry. Eligible students must demonstrate a passion for pursuing a career in the electrical industry and be a Canadian citizen.
S&C will give the winning candidate for the scholarship consideration for summer work and employment.
I'd be interested in learning in the comments below your thoughts on S&C's efforts to encourage careers supporting the electrical power industry.