Monitoring and Maintaining Your Wireless Mesh Network
Back to Top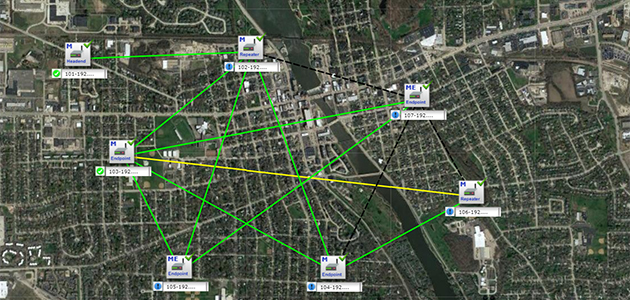 Utilities commonly use wireless mesh networks for building private field area networks due to their inherent resiliency and scalability. With proper design, wireless mesh networks provide reliable communication between distribution grid devices and network operation centers. They also support high-priority traffic, including SCADA and automation messages, as well as lower-priority network monitoring traffic.
The network-monitoring traffic is essential for understanding the health of a mesh network. With the right tools and personnel monitoring a network, maintaining a reliable mesh network can be relatively simple.
Network monitoring is best performed using a network-management system, which keeps an inventory of all network devices along with configuration and performance data that are updated periodically. To preserve network bandwidth for primary applications, configuration data that rarely change don't need to be updated as frequently as performance data, such as uptime and battery statuses.
One of the core functions of a network-management system is to generate prioritized alarms that allow network operators to easily identify existing problems on the network as well as trends. Most network-management systems include a mapping interface to display network topology and performance indicators, giving operators better situational awareness and context into how network issues may affect grid operations.
With a network-management system, the use of reports can greatly simplify daily monitoring. These reports should focus on critical and actionable alarms. Proactive network managers log in to the network-management system daily to observe the network and troubleshoot alarms. Alarms may also be forwarded to a SCADA system to give SCADA operators awareness of network issues that may be affecting SCADA operations. Daily monitoring will help to ensure problems, such as defective hardware, are addressed before they affect primary grid applications.
Over time, network-management systems accumulate a wealth of data that should be mined for maintenance and optimization opportunities. This data will allow utilities to identify problems and trends whenever they decide to analyze the information. Time and resource constraints often result in deferred network maintenance. However, with the right tools, people, and processes, these critical functions can be performed efficiently. A well-maintained mesh network will provide the resiliency and reliability utilities need to control and automate their distribution grid.
I'd be interested in learning your experiences with network-management systems in the Comments section below.