Annual S&C Sustainability Report Highlights 2022 Achievements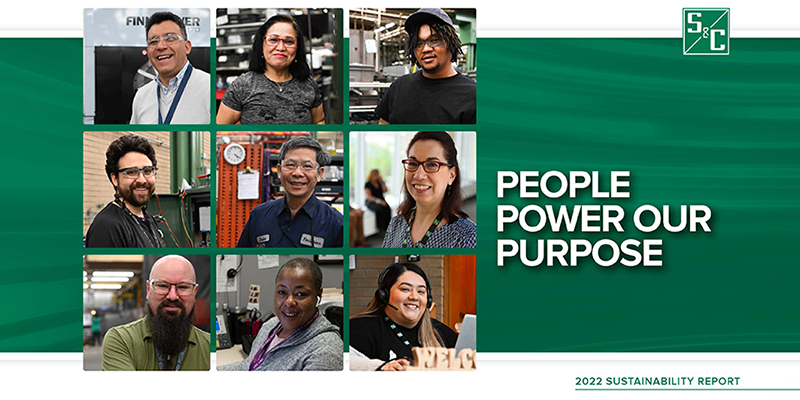 • Improved safety and reduced incidents by 25%
• Increased the diversity of new hires by 28%
• Diverted more than 98.7% of global waste from landfills
CHICAGO, July 27, 2023 – S&C Electric Company, a leader in grid-transformation solutions, today published its 2022 Sustainability Report. Across the organization, S&C improved employee safety, well-being, and diversity as well as the sustainability of its manufacturing processes.
"With safety at our core, S&C is focused on helping our customers enable a clean energy future with innovative solutions for a smarter, more reliable, and resilient electrical grid," said Anders Sjoelin, president and CEO of S&C Electric Company. "This is becoming increasingly important as extreme weather becomes more frequent and our dependence on electricity grows. Our sustainability strategy drives us to transform our commitments into action."
This strategy includes accelerating S&C's global approach to measuring and driving ownership of key sustainability performance indicators, such as its zero-waste-to-landfill program. The company also began to formalize its decarbonization goal, starting with the required planning and investment needed for its success.
Finally, S&C continues to invest in team members and operations to meet customers' increased demand for reliable and resilient grid solutions. For example, in July 2022, S&C opened a LEED-certified, 55,000-square-foot expansion of its manufacturing facility in Franklin, Wisconsin. At that site, S&C produces key products, including the IntelliRupter® PulseCloser® Fault Interrupter, Scada-Mate® Switching Systems, and automation controls that benefit electric utilities worldwide.
As S&C empowers people to transform the grid, the company continues to win honors as a Best Place to Work and Top Workplace for Manufacturing in the U.S.
Download the S&C Sustainability Report here.
专家
S&C 电力公司
出版日期
七月 27, 2023