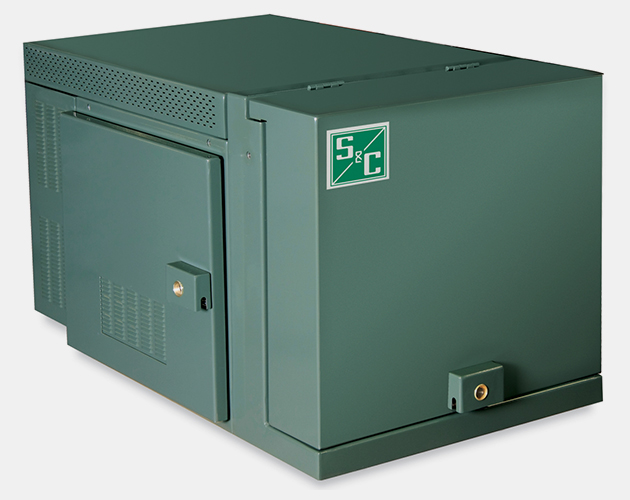 PureWave® CES Community Energy Storage System
Keep power flowing to your customers
In the event of a power outage, the PureWave CES Community Energy Storage System automatically restores power to customers in seconds – a major goal of the self-healing Smart Grid
25 kW of scalable energy storage at the edge of the grid.
Features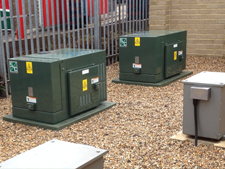 Offering 25 kW for one or two hours, PureWave CES has enough capacity to supply power to a group of customers for the duration of most typical outages. Deployment of these units on a broad scale will significantly improve your customer minutes served — an important index of grid reliability — while greatly reducing your emergency dispatch costs. With its ability to utilize buried distributed batteries, the PureWave CES provides a small footprint that does not change as the energy storage is scaled.
PureWave CES Design Features
Maintenance-free power electronics comply with IEEE 1547 and UL 1741
SCADA radio control
Real-time analog/digital input/output
Hard-wired bypass available for installation and maintenance
Status and control panel

Reliability Benefits
Customer Friendly
Supports multiple customers for hours
Momentary outage is barely perceptible
Customers are isolated from repeated operations and transients
Seamless return-to-normal
Customers experience "premium" power
System Friendly
Reduced SAIDI. Power is maintained to customers
Reduced MAIFI/SAIFI. Customers experience one or zero operations
After an interruption, system experiences reduced load, reduced inrush
System can be set for staged return, reducing cold load pickup
Turn to S&C as your power partner. We offer the latest energy technologies that will reduce your service costs. Contact your local S&C sales office for more information.
Ratings
Ratings, Dimensions, and Weight
Active and Reactive Power
25 kVA
Energy
25 - 75 kWh
Secondary Voltage
240 / 120V
Battery
Li-Ion
Round-Trip AC Energy Efficiency
> 85%
Dimensions (CES only)
50 inches L x 34 inches W x 31 inches H
Weight (CES only)
Approx. 750 lbs.
How It Works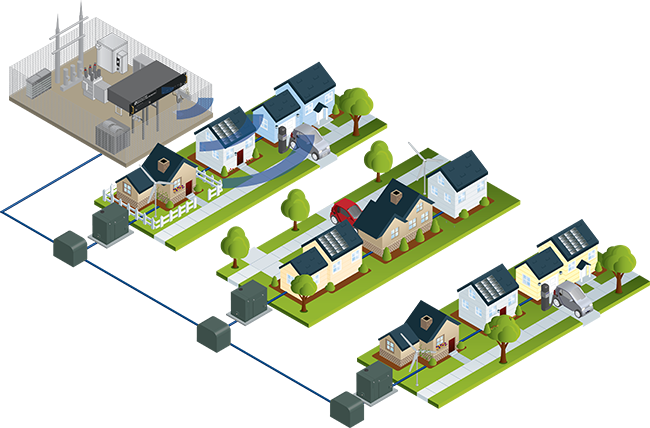 IntelliTeam® DEM Distributed Energy Management System resides in the substation or control room, and acts as a "master controller" of CES units. It constantly checks the status of each CES unit and presents a summary view to the Distribution Control Room. IntelliTeam DEM can command groups or fleets of CES units, allowing their output to be coordinated to perform higher-level functions such as:
Peak shaving/load leveling
Fleet charge/discharge
System-level real or reactive power request
Renewable energy time shift
IntelliTeam DEM Control System

The IntelliTeam DEM Distributed Energy Management System provides real-time monitoring and control of up to 1000 S&C PureWave® Community Energy Storage Units, installed on the secondary side of underground distribution transformers to improve reliability and allow better utilization of customers' small-scale wind and solar generation.
The aggregation of energy storage units by the IntelliTeam DEM Distributed Energy Management System Controller can defer—or even eliminate—the need for additional build-out of the distribution system by handling peak power consumption needs at the feeder, substation, or system level.
Controller Functions

The IntelliTeam DEM Controller continuously communicates with, and provides real-time monitoring and control of, all PureWave Community Energy Storage Units on a distribution feeder. It directly interfaces with your SCADA system and Distribution Management System too. It provides fully-automated charging and discharging of each energy storage unit, either at scheduled times each day of the week, as needed to maintain target demand at the feeder or substation transformer level, or at a specific rate.
The controller reduces – or eliminates – the need for field trips to each energy storage unit to download data or change local set points. It automatically collects and consolidates performance data from the energy storage units, providing the efficient record-keeping needed for your carbon reduction efforts.
As more and more energy storage units are added to your system, the IntelliTeam DEM Controller becomes an invaluable tool for helping your stored energy resources attain their full potential. The controller gives your Distribution Management System operations staff full insight into the condition of the energy storage units and their capabilities. The easy-to-use "dashboard view" interface offers your operations staff a concise way to monitor, dispatch, and manage the stored energy fleet.
Multiple Applications, Multiple Benefits
After control of the energy storage assets has been consolidated at the feeder level, the IntelliTeam DEM Controller can facilitate a variety of higher-level applications, including:
Peak Shaving/T&D Asset Deferral
Load Leveling/Generation Asset Deferral
Feeder Power Factor Regulation
Improved Efficiency of Small-Scale Wind and Solar Generation
Management of Commands from Different Levels.

High Reliability, Minimal Maintenance
The IntelliTeam DEM Controller is designed for utmost reliability. It features redundant processors and data storage, and nonvolatile random-access memory. Configuration settings and operational data can be replicated and saved, in near real time, to a database at a remote location, for use if recovery is ever necessary.
Communication & Control Options
The controller includes Ethernet and UART ports for hardwired connection to the communication network. Factory-installed radios can be optionally supplied for communication with the energy storage units. The controller is furnished with IntelliTeam DEM Distributed Energy Management Software, IntelliTeam® Designer Configuration and License Management Software, IntelliLink® Remote Setup Software, Oracle® Database Standard Edition One, McAfee® Application Control for Servers Software, and McAfee Antivirus Software.
IntelliTeam DEM Controller architecture is highly secure. User authentication, multiple user roles, and access levels are supported. Software upgrades can be performed locally, through USB, serial, or Ethernet connection, or remotely over any communication medium that supports DNP 3.0.