3 Key Observations from DistribuTECH 2016
Back to Top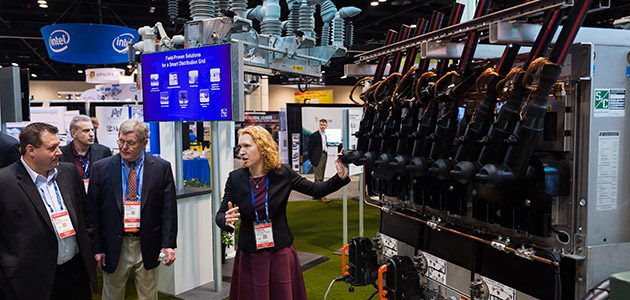 With thousands of distribution specialists and others attending the DistribuTECH 2016 Conference and Exhibition earlier this month, it wasn't difficult to identify some common themes and observations. I quickly noted a key shift within the show that seemed out of sync with market demand. And as I chatted with folks visiting S&C's booth, some expressed concern about how energy storage is being marketed, while some also wanted a clear explanation of the value advanced technology brings to the grid.
Here are my three main observations from DistribuTECH 2016 described in greater detail:
The annual show seemed to move more toward emphasizing software and less on product solutions for the self-healing grid, and various folks who passed through our booth seemed concerned about this trend. There are many software solutions available to address specific issues, with lots more continually being introduced each year. The challenge that was expressed to me centered on integrating their software and hardware systems so they communicate effectively. Software as a solution is not a "solution" if all of a utility's systems don't work together.


Energy storage remained one of the most talked about aspects of the show. That shouldn't be surprising because solar plus storage is gaining steam. We saw a lot of interest in grid-level energy storage, but there was a general concern that customers could be tricked into buying systems with promises their return on investment would come solely from the battery. That's like telling someone they could reduce their cost to commute to work simply based on the improved performance of a new car's engine without taking into account the other costs associated with vehicle. There similarly are other real costs involved that buyers of energy-storage systems should understand. That said, utilities are seeing through the marketing hype and instead have really focused in on how they can apply energy storage to their grid and help consumers and the grid in general.


A common inquiry among visitors to our booth centered on wanting to know more about the value smart grid products would bring to them as customers. We were ready for that by directing the conversation to our new Self-Healing Solutions app. The app simulates actual fault events and describes how our advanced technology works in harmony to quickly resolve fault situations. It also notes utility cost savings and time to repair based on how the technology responds to fault situations. There was a lot of interest in that app because it brought it all together to answer their questions about actual benefits, and it gave them the context of those benefits for multiple fault situations.
I'd be interested in hearing your observations from the show and whether they are similar to what I observed. Please feel free to note your experiences in the Comments section below.