The Future of 'Behind-the-Meter' Energy Storage
Back to Top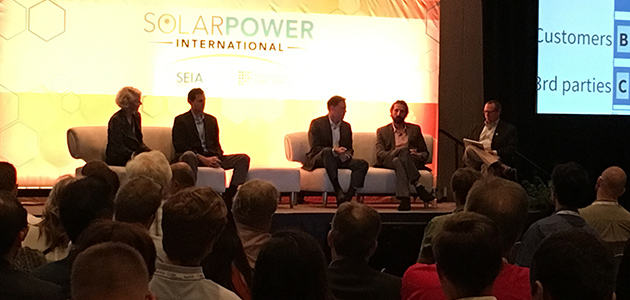 At the recent Solar Power International trade show, I had the opportunity to moderate a very interesting panel discussion exploring the future of "behind-the-meter" (BTM) energy storage, and I would like to share my key takeaways from the session. The panel included industry leaders from several innovative BTM energy storage companies, including:
Advanced Microgrid Systems
Stem Inc.
Sunverge Energy Inc.
SimpliPhi Power Inc.
For clarity, "behind-the-meter" means the energy storage system is installed on the customer's property and on the customer's side of the utility meter. The use of a BTM energy storage system, therefore, can reduce the customer utility bill.
The goal of the panel was to make predictions about the BTM energy storage market 10 years into the future, examining such key questions as:
Who will own the systems?
Which value streams will be most important?
What type of innovation will be most critical?
What I found during the discussion were strong linkages between topics; no individual question could be addressed in isolation. For example, when discussing which value stream would be most important, the panel quickly began discussing policy and market-structure innovation. And it was impossible to discuss who the owners of BTM energy storage systems would be without considering different value streams (for example, long-term utility contracts, demand-charge management, and wholesale market services such as frequency regulation).
The interconnection between ownership structures, revenue sources, and technology led to a second conclusion: Truly integrated systems provided by bankable suppliers will be critical to long-term success. Simply packaging together best-in-class components will not be good enough because doing so would expose system owners to the risk of delays, suboptimal performance, and difficulty in solving problems in the field.
Instead, the battery, inverter, and software-control system must be seamlessly integrated to allow full access to all possible value streams while minimizing installation/commissioning time and maximizing uptime and system life. If systems are simply packaged instead of integrated, errors in battery sizing, chemistry choice, or software/hardware compatibility are much more likely.
If you have additional thoughts or questions about the future of the BTM energy storage market or the long-term value of system integration, please post them below.
Especialista
Fecha de Publicación
octubre 6, 2016