A Long-Term Look at Wind Versus Solar
Back to Top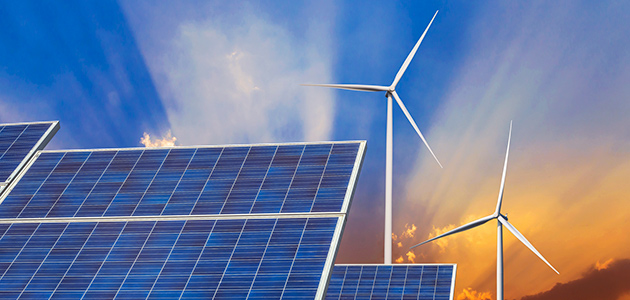 There's seemingly been so much buzz in the trade media about new large solar projects that the continued construction of large wind plants almost goes unnoticed, even though it continues to happen. MidAmerican Energy Co., for example, in June announced a conditional agreement with Denmark's Vestas Wind Systems A/S to provide 1,000 wind turbines for its planned 2-GW Wind X project in Iowa. Several big energy companies also are looking to build large wind plants.
Various factors play in wind's favor. One is cost. The average power purchase agreement electricity price for large wind plants is about 2 cents per watt, which is less than half the average 5 cents per watt for solar. That's one of the things I think will continue driving the wind market forward. The long-term impact, of course, will depend on the ramp down of the Production Tax Credits and how wind can hold up against solar, whose tax credits extend longer. That's an unknown, but here a few thoughts on the long-term outlook.
We might, for example, start to see wind and solar used in different applications. Generally, wind plants almost always are 100 MW or larger. It's always going to be a large energy resource. Solar, on the other hand, can range from as small as someone's rooftop to projects of several hundred MWs. It's possible solar in the long term plays its biggest roles in projects below 100 MW, while wind would apply to larger projects.
Aside from PPA pricing, perhaps the second thing developers consider is the land availability. Wind and Solar each have an advantage here. The advantage for wind is that if a project is using farmland, you're leasing obviously some acres, but you can still farm around it. Whereas almost all solar sites (aside from solar car-ports) have very limited use after the panels have been installed. On the other hand, solar projects can be more easily made larger or smaller to fit an available tract of land or the available capacity nearby power lines.
In fact, this ability to "size" a solar project to the interconnection capacity of nearby power lines is another big factor that affects Solar and Wind projects differently. Since large scale wind projects existed for several years before large solar projects, there are certain areas with a strong available wind resource which have benefited from new transmission lines. The challenge with wind siting has always been finding an area with a strong wind resource and available power lines.
As the size of solar projects has increased, these same interconnection constraints have started to impact solar projects as well. While solar projects can be more easily "sized" to fit the available land or interconnect, we're seeing wind turbine manufacturers making taller turbines with larger "swept areas" which can be applied in new areas where older generation turbines would not have had enough wind resource.
What are your thoughts on the long-term implications for wind and solar?
Especialista
Fecha de Publicación
julio 21, 2016