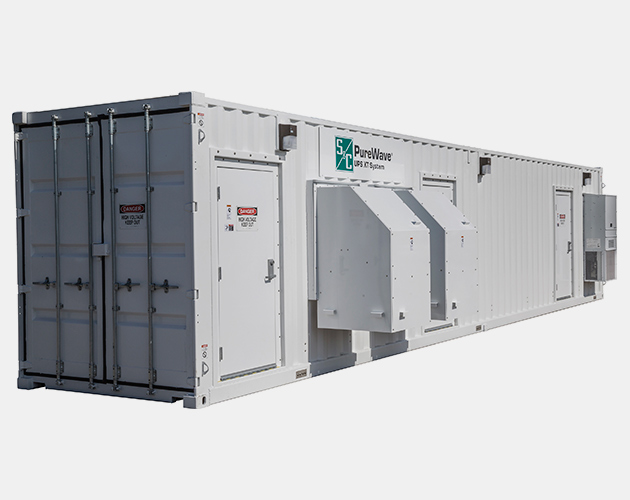 PureWave® UPS Systems
Total power protection for high-density data centers
S&C's medium-voltage PureWave UPS System provides facility-wide back-up power for up to three minutes—eliminating up to 99% of the voltage disturbances commonly encountered on users' distribution systems
S&C's PureWave UPS System protects power-sensitive equipment from the detrimental effects of disturbances such as voltage sags, surges, transients, momentary disruptions, and complete outages. This unique Smart Grid solution supports the entire load with clean power for up to 60 seconds, eliminating 99% of all power quality problems. It supports reduced loads for up to 180 seconds. A high-efficiency static switch provides immediate — 2- to 4-millisecond — response. We now also offer an extended run-time version of our UPS, the PureWave® UPS-XT. This product provides S&C's field-proven UPS technology applied to projects that require battery run-times in excess of one minute.
Features
The PureWave UPS System can be seamlessly coordinated with a backup generator set. Ride-through time can be tailored to permit start-up, then "soft" load transfer to the backup generator, for 100% protection through extended outages. No costly utility paralleling switchgear is needed. And the backup generator can be sized up to 35% smaller than with conventional UPS systems.
Energy Efficient
More than 98% energy-efficient — highest in the industry.
Reduced carbon footprint
Static switch design
When selecting a medium voltage PureWave UPS, the copper conductor costs of distributing power are greatly reduced when compared to conventional low-voltage desgins.

Installable Outdoor
No need to construct a building or an addition to house the equipment. The PureWave UPS System is completely self-contained in a NEMA 3R (IP 14) enclosure, with an exceptionally small footprint.
Reduces interior air-conditioning load, resulting in increased savings.

Scalable, Low- and Medium-Voltage Models
The PureWave UPS System is available in a wide range of capacities. It can provide power protection for an entire facility.
Just purchase the capacity required for your present critical load. Additional 313-kVA modules can be added at any time, as the critical load grows. As many as eight 2.5-MVA containers can be paralleled to protect medium-voltage loads up to 20 MVA.
Low-voltage models. Available in capacities from 313 kVA up to 2500 kVA for 208- to 600-volt applications.
Medium-voltage models. Available in capacities from 2.5 MVA to 20 MVA for 5- to 28-kV applications.

Unmatched Features
Truly maintenance-free batteries with non-prorated 5-year warranty. Batteries can be 100% recycled.
Quiet operation. Audible noise is less than 55 dB(A), compared to 72 dB(A) for conventional UPS systems.
The field-proven PureWave utility disturbance monitor is a patented detection system that allows the PureWave UPS to sense utility voltage deviations at the industry's fastest rate while meeting the demanding IEC Class 1 rating for "fast transfer" to battery power.

The Proven, Most Cost-Effective UPS Solution
The PureWave UPS System has been applied around the world, to protect facilities including:
Data and Call Centers
Hospitals and Health Care Facilities
Continuous Process Industries
Pharmaceutical Manufacturers
Semiconductor Fabricators
Electronics Manufacturers
Other Manufacturing Facilities
Ratings
PureWave UPS Systems Rated 313 kVA to 1250 kVA
Rating at 480 Volts
Amperes, RMS
kVA
kW
Full-Load at 480 Volts
Short-Circuit, Sym.
313
250
376
35 000
625
500
752
50 000
938
750
1128
65 000
1250
1000
1504
65 000
PureWave UPS Systems Rated 1563 kVA to 2500 kVA
Rating at 480 Volts
Amperes, RMS
kVA
kW
Full-Load at 480 Volts
Short-Circuit, Sym.
1563
1250
1880
65 000
1875
1500
2256
65 000
2188
1750
2632
65 000
2500
2000
3000
65 000
Medium-Voltage PureWave UPS and PureWave UPS-XT Systems Ratings
System Rating, MVA/MW
Voltage Range, kV
Current Rating, RMS, Sym.
Nom.
BIL
Cont., A
Short-Circuit, kA
2.5 / 2.0
20 / 16
4.16
60
600 or 1200
16.0, 1-cycle
10.0, 5-cycle
13.8
95
25
125
300 or 600
10.0, 5-cycle


Batteries

Batteries have a mixed reputation in UPS applications. Batteries provide instantaneous standby power, but many users experience poor reliability even though they've performed extensive battery maintenance. In the PureWave UPS System, the batteries are applied in such a way as to eliminate this problem.
Battery Characteristics
The PureWave UPS System is designed around the operating characteristics of the Group 31 deep-cycle sealed lead-acid battery. This battery is a perfect match for UPS applications, where high power, short duty-cycle operation is required. The high-volume production and proven track record of this battery further contributed to its selection.
On-Line Versus Off-Line Application
In a conventional on-line UPS system, the batteries are continuously connected to the energized dc bus, causing dissipation of electrolyte and prohibiting proper equalization charging, as well as exposing the battery string to AC ripple. Battery maintenance requirements are increased and battery life is significantly shortened.
But in the off-line PureWave UPS System, the batteries are connected to the energized bus only when the system is supplying power to the load. No battery maintenance is needed and battery life is increased.
Equalize Charging
Proper battery equalization requires that the terminal voltage of each battery be raised at least 20% to insure all batteries in the string are at the same state of charge (at 100% rating).
In a conventional on-line UPS system, the batteries cannot be properly equalize-charged because — with the batteries continuously connected — dc bus voltage can't be raised more than 5%.
In the PureWave UPS System, however, the batteries are automatically equalize-charged every two months.
No Maintenance Required
In addition to the off-line design of the PureWave UPS System, the batteries themselves include features that eliminate the need for routine maintenance, including:
Reserve electrolyte capacity.
No lead post terminals. A stainless-steel insert in each battery post, along with a Belleville washer, obviates the need to check and tighten connections.
The PureWave control system continuously monitors the status of each battery string and tracks battery usage. Battery replacement is predictable and can be scheduled in a timely manner.

Warranty
S&C provides a non-prorated, five-year, 100% warranty on the batteries. Manufacturers of on-line UPS systems, on the other hand, offer a one-year battery warranty having a value prorated over 5 to 10 years.
Demo
The PureWave UPS Interactive Demonstration shows how the system can be installed with a utility power source and an emergency back-up generator set to ensure uninterrupted power to a critical load. The PureWave UPS System can be installed indoors or pad-mounted outdoors at the service entrance location.
If a momentary voltage sag or surge occurs on the utility power source, the PureWave UPS System will detect this disturbance and provide back-up power to the load within ¼ cycle. The duration of such disturbances is typically a few cycles to a few seconds.
For longer disturbances or extended power outages, the PureWave UPS System will start up the generator set. After generator output voltage has been established, the PureWave UPS System will seamlessly transfer the load to the generator set. When the utility power source subsequently returns to its normal limits, the PureWave UPS System will seamlessly transfer the load back to the utility power source.